Avon Romance

recently bestowed me the honor of being selected as an

Avon Addict

! I discovered romance through Avon books ... and Avon Romance continue to fill my book shelves! Today Avon author

Jennifer Bernard

joins us in virtual Hawaii. Her appearance is timely this day after September 11. Jennifer's heroes are the

Bachelor Firemen of San Gabriel

- their brethren of New York so gallantly responded to the World Trade Center. New York is familiar to Jennifer. From her bio,
I graduated from Harvard University with a degree in History and Literature. I wanted to major in Creative Writing, but those students were supercool and I confess I was a geek. Even so, I knew I had to write. After college I worked for Macmillan Publishing in New York, where I wrote copy for yearly encyclopedia updates. Yes, it was writing, but I wanted to try something different. The something different turned out to be living on a fishing island in Maine.
Kim

: Harvard! What was your favorite sight, sound, and smell?



Jennifer

: First of all, thank you so much for having me here on your blog! I went to high school in Houston, Texas, which is built mostly with concrete, steel and glass, so when I got to Harvard I fell in love with the old red brick you see everywhere. I wasn't used to that sense of history that saturates the whole campus. My favorite sound would be that of shoes on cobblestones – another thing we didn't have in Houston – and the skittering of autumn leaves on the sidewalks. As for the smell – dusty old books. There's nothing like it for inspiring a geek-girl such as myself.
Harvard Yard courtesy of Wikipedia
Kim

: What inspired the move to a fishing island in Maine? What did it inspire in you?



Jennifer

: I found myself at loose ends a couple years after college (I'd been working in publishing in New York, but wanted to leave the city.) I answered an ad for a sandwich shop worker on a remote Maine island. It was a two-month job, which sounded perfect to me. I wanted to see and experience something different, something that didn't involve studying and reading. It turned out to be a life-changing adventure. I stayed on the island for two years, learned how to pick crab, cook breakfast for a crew of fishermen, haul lobster traps, knit, shingle houses, can tomatoes, and all sorts of back-to-basics skills. I absolutely loved it. I think it inspired a thirst for more adventure and a curiosity about the different ways people live.
Maine courtesy of Wikipedia
Kim

: Alaska! You must enjoy wearing long underwear! What are the pros and cons of living in Alaska? What's your winter getaway spot in Hawaii?



Jennifer

: Long underwear and I have a love-hate relationship. I'm grateful for it, but really, it's not the most fashion-forward type of clothing you ever saw. Life in Alaska has so many pros: the unspoiled beauty, the incredible bounty of the land and sea, the closeness to nature, the extremes of light and weather. The cons are similar, actually. The extremes can be taxing, the remoteness means everything is more expensive (like Hawaii!) and sometimes I'd rather be close to sophisticated cafes instead of nature. Every winter we spend a couple months working on our place on the Big Island in Hawaii. Some day we'll be close to nature in the form of active volcanoes instead of six-foot blizzards. I admit I'm looking forward to that day!
Mount McKinley, Alaska, courtesy of Wikipedia
Kim

: Tell us about your Firemen Series!



Jennifer

: Well! Where do I start? With the hunky firemen, perhaps? The Bachelor Firemen of San Gabriel are fearless, smoking hot and single, but it's their bad luck in love that makes them legendary. For the Bachelor Firemen, fighting fires is a breeze compared to falling in love – it's one disaster after another before they find their happy endings. But once Captain Brody meets his perfect match (in

THE FIREMAN WHO LOVED ME

) it's just a matter of time before the rest of the firemen break the curse too.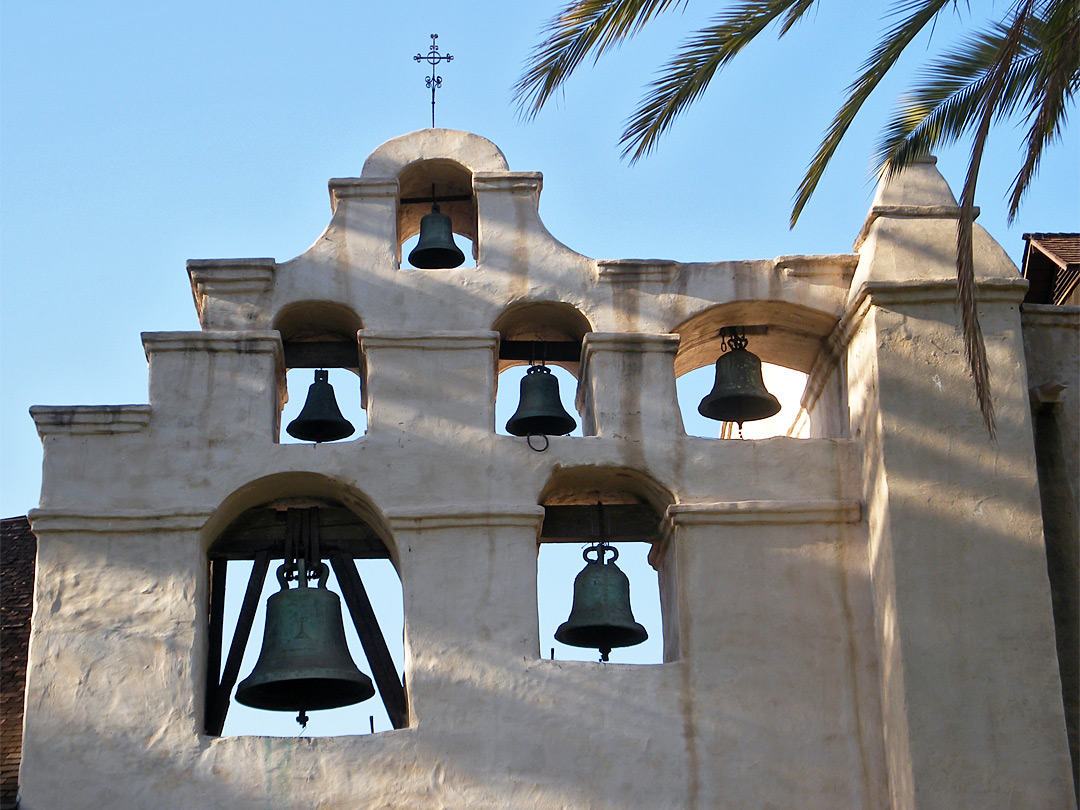 San Gabriel Mission
Kim

: What's next for

Jennifer Bernard

?



Jennifer

: I have an e-novella coming out on November 13 called

ONE FINE FIREMAN

. I'm especially excited about this one because I'm planning to give a portion of the royalties to the Fireman's Cancer Support Network in honor of Thor, the hero. Then on January 29,

SEX AND THE SINGLE FIREMAN

, which is the third book in the series, will be in bookstores everywhere. And then, fingers crossed, more Bachelor Firemen will find their happy endings too.
Mahalo, Jennifer, for joining us at SOS Aloha! I am offering a book choice from Jennifer's backlist -

THE FIREMAN WHO LOVED ME

or

HOT FOR FIREMAN

. To enter the giveaway,
1. Leave a comment about first responders. Here in Hawaii, the firemen offer free blood pressure tests from 9 - 5, except during lunch!
2. This giveaway is open to all readers.
3. Comments are open through Saturday, September 15, 10 pm in Hawaii. I'll post the winner on Sunday, September 16.