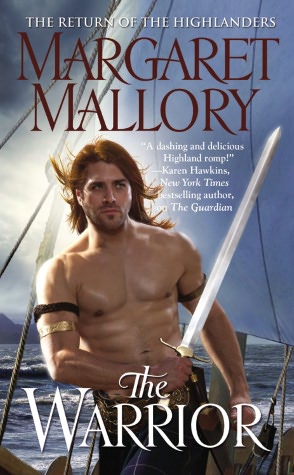 Hawaiians love their dogs. The bigger, the better. Dogs travel in the pick up. Dogs surf with their master. But dogs stay home from University of Hawaii (UH) football games. Perhaps the mascot, a warrior, might be too challenging for the dogs.
It is my distinct pleasure to host

Margaret Mallory

to celebrate the release of

THE WARRIOR

(at this

link

), Book Three from
THE RETURN OF THE HIGHLANDERS

(at this

link

).
The sea from the Isle of Skye.
Image provided by Margaret Mallory.
Aloha! And thank you, Kim, for having me as a guest again.
After seeing the cover of

THE WARRIOR

, my latest Return of the Highlanders book, I suspect that the character you want to hear about is my handsome Highlander, Duncan MacDonald. I do want to tell you about Duncan, who is the fiercest warrior of his clan and captain of his chieftain's guard. But first, I'm going to tell you about a four-legged character in the book. Sàr is handsome and heroic, and yes, he's a dog.
When I sat down to write

THE WARRIOR

, I decided to include a dog simply because none of my lead characters had ever had a dog companion before. Lucky for me, this turned out to be one of those wonderfully serendipitous decisions a writer sometimes makes that turns out well.
I researched to find a breed that could have been found on the Isle of Skye in 1516. For a time, I thought it would add humor to foist a scrappy little terrier on the most alpha of my alpha warriors. But Duncan already faced so many challenges—especially the heroine. What this warrior needed was a quiet, dignified companion. I was leaning toward a Scottish deerhound, a sleek hunter, when I came across its larger cousin, the Irish Wolfhound in my research.
Galen in show.
Image provided by Margaret Mallory.
Oh my, what a dog! Huge, loyal, quiet, steadfast, handsome, and a fierce fighter. Everything I read about the dog made him—now don't laugh—the perfect animal parallel to my hero. According to the American Kennel Club, the wolfhound has a "commanding presence," is "remarkable in combining power and swiftness," and is "muscular, strong though gracefully built." Oh yeah.
Since Duncan fetches (haha) the heroine home from Ireland, it was easy to have the wolfhound come with her. I named the dog Sàr, which is a Gaelic word for warrior.
Margaret with Galen.
Image provided by Margaret Mallory.
Though the wolfhound seemed to be the perfect choice in every regard, I was having difficulty getting the dog on the page. I decided I needed to meet one. Research should always be this fun.
A woman in town who has THREE wolfhounds let me visit, and it was love at first sight. Three wolfhounds in a living room is like having ponies in the house. Later, she invited my husband and me back when she had an extra dog in her house and 12-week-old puppies. It was amazing!!
Margaret's new heroes!
Image from Margaret Mallory
Her wolfhounds were such good-natured giants that I wondered about the breed's fighting reputation. The owner assured me that these dogs could take down wolves. She sent photos of them with their teeth bared and play-fighting on their hind-legs--which were quite persuasive—and told me the expression that is used to describe them:
Gentle When Stoked, Fierce When Provoked.
Getting back to my hero, Duncan MacDonald… While I would definitely not call this Highlander good-natured, he and the wolfhound do share other qualities. Duncan is a remarkably skilled and fearsome warrior with a commanding presence. But he is also a man who cares for a badly injured friend with great gentleness. Children trust him. And after seven years of carrying a torch for a certain black-haired, blue-eyed lass, this deeply loyal warrior still loves her.
I'd love to respond to comments or questions! I'll give away a signed copy of THE WARRIOR to one of the commenters.
"The Warrior is a winner!"
Image provided by Margaret Mallory.
Mahalo, Margaret, for sharing your research with us! I am looking forward to reading about Duncan and Sàr in THE WARRIOR:
Four fearless warriors return to the Highlands to claim their lands and legacies. But all their trials on the battlefield can't prepare them for their greatest challenge yet: winning the hearts of four willful Scottish beauties.

STAR-CROSSED

From the Isle of Skye to the battlefields of France, Duncan MacDonald has never escaped the memory of the true love he left behind. Deemed unworthy of a chieftain's daughter, Duncan abandoned the lovely Moira to prove his worth in battle. Now, when called upon to rescue her from a rival clan, one thing is certain: Moira's pull on his heart is stronger than ever.

Bartered away in marriage to a violent man, Moira will do anything to ensure she and her son survive. When a rugged warrior arrives to save her, the desperate beauty thinks her prayers have been answered-until she realizes it's Duncan. The man who once broke her heart is now her only hope. Moira vows never again to give herself—or reveal her secrets—to the fierce warrior, but as they race across the sea, danger and desire draw them ever closer.
Tioram Castle - traditional seat of the Clan MacDonald
Image by Dave Wilkie via Wikipedia
1. Leave a comment or question for Margaret. I may be a cat person, but I am awed by those gentle giants!
2. This giveaway is open to US readers. I am giving away a Warrior souvenir to one International reader.
3. Comments are open through Saturday, November 3, 10 pm in Hawaii. I'll post the winner on Sunday, November 4.