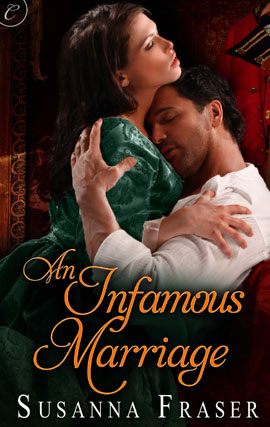 On this day in 1872,

Susan B. Anthony

voted in defiance of the law. She was later arrested, tried, and fined $100. Yet she never paid the fine. Anthony continued her fight for women's suffrage. I think it is strong heroines like Anthony that inspire readers to seek strong heroines in romances, no matter the time period.
Susan B. Anthony
Susanna Fraser

has become the go to author for Regency Romance. She burst onto into Romanceland with her innovative debut,

THE SERGEANT'S LADY

, in August 2010. Highly recommended by Mary Gramlich, The Reading Reviewer, I was fortunate to interview Susanna at this

link

. Today, she is celebrating the release of her third book,

AN INFAMOUS MARRIAGE

, with a strong heroine trapped within society's strictures on women:
Northumberland, 1815

At long last, Britain is at peace, and General Jack Armstrong is coming home to the wife he barely knows. Wed for mutual convenience, their union unconsummated, the couple has exchanged only cold, dutiful letters. With no more wars to fight, Jack is ready to attempt a peace treaty of his own.

Elizabeth Armstrong is on the warpath. She never expected fidelity from the husband she knew for only a week, but his scandalous exploits have made her the object of pity for years. Now that he's back, she has no intention of sharing her bed with him—or providing him with an heir—unless he can earn her forgiveness. No matter what feelings he ignites within her…

Jack is not expecting a spirited, confident woman in place of the meek girl he left behind. As his desire intensifies, he wants much more than a marriage in name only. But winning his wife's love may be the greatest battle he's faced yet.
Northumberland
Image by Colinc from Wikipedia
I am currently reading

AN INFAMOUS MARRIAGE

and enjoying Susanna's fresh voice. She captures the norms of the time period yet delivers a capable heroine whom Susan B Anthony would cheer! I also appreciate Susanna's nod to military heroes as we countdown to Veterans Day on Sunday, November 11.
Join Susanna on her blog tour, with stops listed at this

link

. Comments can win an ecopy of

AN INFAMOUS MARRIAGE

and the grand prize of a $50 gift card.
In honor of Susan and Susanna, I am giving away a sample of Hawaiian fruit teas plus other Hawaiian treats. Tea is a staple of Regency England ... and a soothing drink for the coming winter. To enter the giveaway,
1. Leave a comment about a strong heroine - past or present - who you admire.
2. This giveaway is open to all readers.
3. Comments are open through Saturday, November 10, 10 pm in Hawaii. I'll post the winner on Sunday, November 11.
To learn more about Susanna and her books, check out her website at

susannafraser.com

.