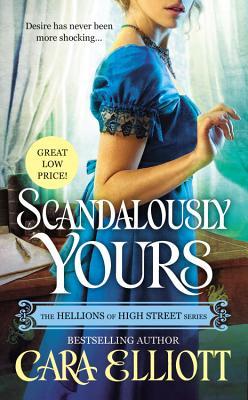 Proper young ladies of the ton-especially ones who have very small dowries-are not encouraged to have an interest in intellectual pursuits. Indeed, the only thing they are encouraged to pursue is an eligible bachelor. So, the headstrong Sloane sisters must keep their passions a secret. Ah, but secret passions are wont to lead a lady into trouble . . .



SCANDALOUSLY YOURS



The eldest of the three Sloane sisters, Olivia is unafraid to question the boundaries of Society-even if it does frequently land her in trouble. Disdaining the glittery world of balls and courtship, Olivia prefers to spend her time writing fiery political essays under a pseudonym for London's leading newspaper. But when her columns attract the attention of the oh-so-proper Earl of Wrexham, Olivia suddenly finds herself dancing on the razor's edge of scandal. With the help of her sisters, she tries to stay one step ahead of trouble . . .

However, after a series of madcap misadventures, Wrexham, a former military hero who is fighting for social reform in Parliament, discovers Olivia's secret. To her surprise, he proposes a temporary alliance to help win passage of his bill. Passion flares between them, but when a political enemy kidnaps the earl's young son, they must make some dangerous decisions . . . and trust that love will conquer all.
St. Giles Chuch, Wrexham
Image by David Powell (

link

)
The role of a writer is not to say what we all can say, but what we are unable to say. - Anais Nin
Olivia Sloane has a talent for writing yet the ton forces her to hide behind a pen name. She also hides during social engagements. On one such occasion, Olivia matches wits over a chess board with a shadowed man marked by a military bearing. She later learns her challenger was Earl of Wrexham, a war hero and widowed father of a precocious son. Circumstance continues to bring them together, giving Olivia and Wrexham the opportunity to learn each other's secrets.
Elliott excels in the little details to make this a quintessential Regency romance laced with passion, humor, and warmth. The chess board becomes the catalyst for these fated lovers to learn how to outmaneuver their enemies ... and conquer each other's hearts. Elliott includes children in a subplot ala Sleepless in Seattle. I wasn't sure how this storyline would merge with the overarching story of the social reform. Yet Elliott weaves all threads together for a heartfelt romance, whetting my appetite for the other Sloane sisters to have their own adventure.
Recommended read for fans of Regency historicals, bluestocking heroines, and road trips.
The road trip takes them to Dartmoor ...
I am giving away a book choice from my convention stash to one randomly selected commenter. To enter the giveaway,
1. Leave a comment about your pen name - what would it be?
2. Comments are open through Saturday, April 25, 10 pm in Baltimore.
3. I'll post the winner on Sunday, April 27.
Aloha Spirit in Charm City
Books 2 and 3 from the Hellions of High Street