Yesterday I received a lovely package from Avon Romance - three holiday titles plus a logo glass:
Jill Shalvis' THE TROUBLE WITH MISTLETOE

(Heartbreaker Bay Book 2):
If she has her way ...

Willa Davis is wrangling puppies when Keane Winters stalks into her pet shop with frustration in his chocolate-brown eyes and a pink bedazzled cat carrier in his hand. He needs a kitty sitter, stat. But the last thing Willa needs is to rescue a guy who doesn't even remember her ...

He'll get nothing but coal in his stocking.

Saddled with his great-aunt's Feline from Hell, Keane is desperate to leave her in someone else's capable hands. But in spite of the fact that he's sure he's never seen the drop-dead-gorgeous pet shop owner before, she seems to be mad at him ...

Unless he tempers "naughty" with a special kind of nice ...

Willa can't deny that Keane's changed since high school: he's less arrogant, for one thing—but can she trust him not to break her heart again? It's time to throw a coin in the fountain, make a Christmas wish—and let the mistletoe do its work ...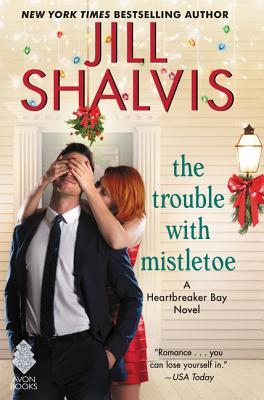 Toni Blake's CHRISTMAS IN DESTINY (Destiny Book 7)
"Go to Destiny. There's something waiting there for you."

Shane Dalton's new life is waiting in Miami, complete with fast cars and faster women. But first, he's heeding his father's dying words and stopping off in Destiny, Ohio. The detour wasn't supposed to include a busted pickup and a blizzard. But Candice Sheridan, the cute redhead who reluctantly offers shelter, could prove a pleasant diversion. Trouble is, she thinks Shane's bad news. And he's pretty sure she's right . . .

Candice had her trust broken once before. Yet something about Shane won't let her stay away. By Christmas, he'll be gone. Until then, she's itching to stop playing nice and safe . . . and try being a little naughty for once.

As their holiday romance heats up, Shane uncovers a shattering secret and Candice is preparing to face heartache once again. But there's no better place than Destiny—especially at Christmastime—for two lost souls to find the gift of sweet, surprising love . . .
Lori Wilde's A WEDDING FOR CHRISTMAS (Twlight, Texas Book 7)
The whole town is ready for the holidays: The Cookie Club is baking, Main Street glitters with lights, the carolers sing . . .There's even a Christmas wedding.

When bodyguard Ryder Southerland sees his best friend's sister Katie at an L.A. Christmas party, he mistakes the slinky blonde for a celebrity stalker and tackles her. Then they tackle each other . . . at his place. The next morning, Katie's gone, and Ryder tells himself it's for the best. It isn't. Now, one Christmas later, Ryder's falling for the woman he's been missing in the town he hasn't missed at all . . .

Katie Cheek's outgrown the romantic fantasies she had about Ryder when she was fifteen. Katie's packed their hot night away in a box labeled "fling"—or tried to. But Twilight's bad boy is the best man in her brother's wedding. And up-close and personal, Ryder's impossible to ignore. So Katie can either go into hiding—or surrender to Christmas magic.
I share my windfall with one randomly selected commenter - the winner may choose one of these three titles plus a choice from my convention stash. To enter the giveaway,
1. Leave a comment about your holiday plans this weekend, whether or not you celebrate Christmas.
2. Comments are open through Sunday, December 25, 10 pm in Baltimore.
3. I'll post the winner on Monday, December 26.
Mahalo,
Kim in Baltimore
Aloha Spirit in Charm City