Nestled between fast track Ft. Lauderdale and nouveau riche Boca Raton, the once sleepy beach town of Palmetto is plagued by progress. The latest news has Ocean Vista condo board president Stella Sajak and other residents in an uproar. Developers plan to raze the property and put up a glitzy resort. But when Stella says she'll go to City Hall and fight this to the death, no one thinks to take her statement literally.

And when Kate begins to investigate the murder, she discovers that this little corner of the sunshine state is cursed with corruption, unsavory characters, and a very dark cloud overhead.
Every drop in the ocean counts. - Yoko Ono
I found Nora Charles'

DEATH WITH AN OCEAN VIEW

at a used book store before my trip to Florida. Published in 2004, it is the first book in Senior Sleuth Mystery series. Given I grew up in Miami, I enjoy reading novels set in South Florida. The story opens with Kate Kennedy lamenting the death of her husband, a retired NYPD officer. He died shortly after they signed for their new home in the Ocean Vista condo building overlooking the Atlantic Ocean. I almost gave up as Kate was drowning in her grief. Then the pace picked up with the murder .... and Kate's sister in law, Marlene, engages in senior antics. Kate and Marlene become Ocean Vista's version of Lucy and Ethel as they investigate the murder.
DEATH OF AN OCEAN VIEW is only 198 pages - a quick read that produced many chuckles as Marlene reeks havoc on the retirement community while Kate acts as the level headed sleuth. In the end, Nora Charles' created memorable characters to cherish. Her dry wit is the cherry on top.

I was intrigued to read more books in the series ....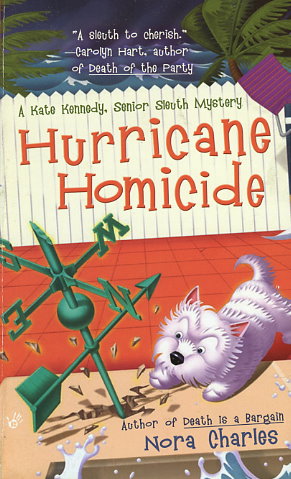 He forecasts the weather on TV to the delight of his many fans. But the residents of Ocean Vista Condominiums are less fond of Uncle Weatherwise—the newest arrival at the condo—especially when a hurricane that he predicted would bypass Palmetto Beach instead heads straight for their town.

The morning after a frantic evacuation, Kate is blown away when she stumbles upon the corpse of Uncle Weatherwise, with a sharpened weather vane pointed in the direction of his heart. Suddenly Kate's neighbors are her suspects, from a retired Rockette to a former federal prosecutor to a man dressed mysteriously in crisply pressed pajamas. And before she knows it, Kate is hot on a trail of clues that may lead back to the Cold War.
HURRICANE HOMICIDE
(aka DEATH STORMS THE SHORE) is Book 4 in the series. Nora Charles turns up the cloak and dagger with flashbacks to the Cold War. The memorable characters continued to entertain as I pieced together how the Red Scare of the 1950s could still impact lives in their twilight years. Nora Charles accurately portrays the chaos of hurricane evacuations - something I remember vividly from my childhood in Miami and college life in Tampa.
Tired of college, Kate Kennedy's granddaughter, Katharine, drops out and heads for Florida, landing in the apartment of Kate's best friend. In her quest for a new life, she takes up with a gang of surfers that go by the name "The Four Boardsmen of the Apocalypse."

But catching waves can be a dangerous pastime. When Katharine's surfer crush is killed in a shark attack, foul play is suspected, especially by the police. Fingers are pointing at Katharine—including, to Kate's disappointment, those of her friend Detective Nick Carbone. It's up to Kate to prove her beloved granddaughter's innocence or else Katharine's "new life" will be spent behind bars.
DEATH RIDES THE SURF

is Book 5 in the series. Kate's impish granddaughter Katharine, creates waves in Ocean Vista as she follows her heart to a group of disreputable surfers. As Kate walks the fine line of offering support while encouraging Katharine to act responsible, Marlene breaks the ice for the dynamic duo solve the mystery with a little help from Casablanca.

I am now on the hunt for the two books I missed in this series!
I am giving away swag to one randomly selected commenter. To enter the giveaway,
1. Leave a comment about where you would like to retire - beach? mountains? countryside?
You know my answer .... Hawaii! Even if we landed in the middle of Oahu, in the pineapple fields, I would be happy!
2. Comments are open through Wednesday, January 31, 10 pm in Baltimore.
3. I'll post the winner on Thursday, February 1.
Aloha Spirit in Charm City