In 1926, Agatha Christie disappeared—making headlines across the world—only to show up eleven days later at a spa under an assumed name. During those eleven days, did she have time to write a play?
Jordan Kelly needs a new job and a new place to live. She's back in Harrison Falls, New York, living with her not so law-abiding uncles, in debt thanks to a credit card–stealing ex and pending grad school loans.
Enter the perfect job, a research position that includes room and board, which will allow her to spend her days hunting down rare mysteries for an avid book collector. There's just one problem: her employer, Vera Van Alst—the most hated citizen of Harrison Falls.
Jordan's first assignment is to track down a rumored Agatha Christie play. It seems easy enough, but Jordan soon finds out that her predecessor was killed while looking for it, and there is still someone out there willing to murder to keep the play out of Vera's hands. Jordan's new job is good…but is it worth her life?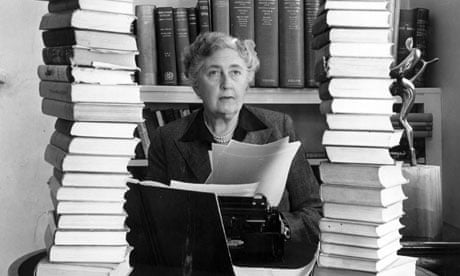 Very few of us are what we seem. - Agatha Christie
THE CHRISTIE CURSE

, Book 1 in the series, introduces us to Jordan Kelly Bingham, a resourceful twenty something looking for a respectable job. She finds such job - with room and board - with Harrison Fall's resident grump, Vera Van Alst. While her vintage mansion crumbles around her, Vera collects first editions from her favorite mystery authors. She tasks Jordan to procure a copy of the Christie's "lost play" .... and Jordan turns to her not-so-respectable uncles for assistance. As Jordan hunts for the lost play, she learns that not all of the players in the rare book business are who they seem to be.
Abbott creates a cast of characters who are entertaining and intriguing - a research assistant with gusto, a male librarian on speed dial, an Italian cook with endless energy, several uncles with unlimited resources, and a mysterious cop with a killer smile. Abbott incorporates the Dame's plot devices into

THE CHRISTIE CURSE

as a tribute to her.

THE CHRISTIE CURSE

kept my attention throughout its 304 pages. I was curious enough to find more books in the series.
Jordan works hard to improve Vera Van Alst's collection of classic detective stories. So when Chadwick Kauffman—heir to the Kauffman fortune—offers a very good price on a fine collection of Ngaio Marsh first editions owned by his recently deceased stepfather, she is thrilled to meet with him at his fabled summer estate, Summerlea.
The next day, Jordan and Vera are shocked to read that Chadwick has died in a fall from the grand staircase at Summerlea. But when the picture in the paper is of a different man, it becomes clear that the ladies are victims of a scam. And they'll have to unmask the imposter fast, because someone is trying to frame them for murder…
THE MARSH MADNES

S is Book 4 in the series (I did not find Books 2 and 3 at the used book store). The same characters welcomed me back to the cozy (but chaotic) world of Jordan Bingham as she balances her "respectable" job while relying upon her "questionable" uncles for assistance. In

THE MARSH MADNESS

, Jordan finds herself on the opposite side of the law - and her police boyfriend - as she tries to clear her name in the suspicious death of an reclusive millionaire.
THE MARSH MADNESS

delivered more laugh out loud moments as Jordan morphed into Stephanie Plum meets James Bond - one scene involves her cop boyfriend chasing her with only a towel after he stepped out of the shower to find her hiding in his house. Jordan has gained more confidence in herself while she finds it easier to blur the lines between "being above board" and "bending the rules." The cherry on top - Jordan shares her love for Ngaio Marsh books, making them a part of the plot in unexpected places. The villain is not who I expected.
On a getaway to the City by the Bay, book collector Jordan Bingham becomes entangled in a mystery with more twists than Lombard Street...

Jordan has been able to swing a romantic trip to San Francisco with Officer Tyler "Smiley" Dekker on one condition—she must return with a rare copy of Dashiell Hammett's Red Harvest for her irascible employer, Vera Van Alst. For his own part, Smiley is full of surprises. He's a Dashiell devotee himself—excited to be in the city of Hammett's hard-boiled heroes like Sam Spade and the Continental Op—and also announces he plans to visit his previously unmentioned estranged grandmother, who lives in an old Victorian on Telegraph Hill.

But the trip goes downhill fast when Jordan is pushed from a cable car and barely escapes death. And when a dark sedan tries to run the couple down, it's clear someone's after them—but who? Just like in Hammett's world, nothing is quite what is seems...
THE HAMMETT HEX

is Book 5 in the series, picking up shortly where Book 4 ended.
Jordan and Smiley escape to the City by the Bay only to find themselves embroiled in a series of near escapes - are they trapped in a Dashiell Hammett novel? Nothing stops them from fulfilling Smiley's secondary purpose of visiting San Francisco - reuniting with his estranged grandmother. Yet that simple meeting leads to more chaos for Jordan and Smiley. Why does trouble come her way every time she procures rare editions?
Jordan demonstrates that she is more than capable of taking care of herself while dodging villains. She relies on the Kelly Family motto - make do with what is handy. Her antics leads to laughs as well as endearing her to me. I rooted for her through thick and thin.
I did not want

THE HAMMETT HEX

to end.
Now I have to find Books 2 and 3 in this series ... and hope Victoria Abbott continues to publish the adventures of Jordan, Smiley, and the Kelly Uncles!
The House on Telegraph Hill (

link

)
I am giving away book swag to one randomly selected commenter. To enter the giveaway,
1. Have you visited San Francisco? If yes, what was your favorite thing about the City by the Bay - view, food, experience? If no, what would you want to do?

I have not visited San Fran yet .... I would like to ride a cable car!
2. Comments are open through Wednesday, January 31, 10 pm in Baltimore.
3. I'll post the winner on Thursday, February 1.
Mahalo,
Kim in Baltimore
Aloha Spirit in Charm City