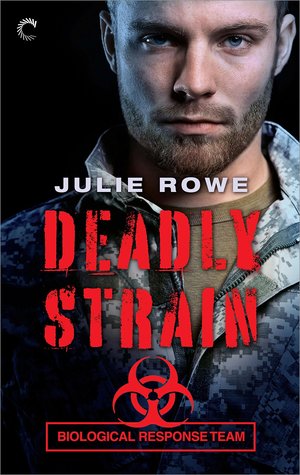 Julie Rowe

is a dynamo - she is a long standing supporter of military families. Julie is always smiling at conventions. She generously shares her knowledge of Twitter. Julie has authored a wide range of romance books. From her bio,

Julie Rowe's first career as a medical lab technologist in Canada took her to the North West Territories and northern Alberta, where she still resides. She loves to include medical details in her romance novels, but admits she'll never be able to write about all her medical experiences because, "No one would believe them!" A double Golden Heart finalist 2006, Julie's writing has appeared in several magazines such as Today's Parent, Reader's Digest (Canada), and Canadian Living. She currently facilitates communication workshops for her local city college. Julie enjoys hearing from her readers. You can reach her at

julieroweauthor.com

or on Twitter

@julieroweauthor

.

Julie is celebrating the release of

DEADLY STRAIN

- Book 1 from the Biological Response Team:
Major Grace Samuels, a trauma surgeon deployed to Afghanistan, spends her life helping her fellow soldiers overcome disease and combat injuries. But her own wounds are harder to heal. Wracked with guilt over the death of a fellow soldier, she finds comfort in her only friend and appointed bodyguard, weapons sergeant Jacob "Sharp" Foster.
Sharp feels more for Grace than a soldier should, more than he wants to admit. When the team discovers a new, quick-to-kill strain of Anthrax, he tries to focus on the mission to find its source. He knows he can help Grace defeat her demons, but first they must defeat the deadly outbreak.
Sharp is Grace's most loyal ally, but in close quarters, he starts to feel like more. She can't watch someone else she cares about die—but she might not have a choice. The closer they get to finding the source of the strain, the closer it gets to finding them.
View of Band-e Amir in the Bamyan Province of Afghanistan
Referred to as Afghanistan's Grand Canyon
Public Domain (

link

)



DEADLY STRAIN

is next in my reading queue and looking forward to it! I am giving away a digital copy of

DEADLY STRAIN

to one randomly selected commenter. To enter the giveaway,

1. Leave a comment about Canada - what do you know about about our Northern neighbor? I know Canada has gorgeous landscapes!

2. Comments are open through Saturday, June 20, 10 pm in Baltimore.
3. I'll post the winner on Sunday, June 21.

Mahalo,

Kim in Baltimore
Aloha Spirit in Charm City
Moraine Lake in Banff National Park
Alberta, Canada
Public Domain (

link

)