The third book in the beloved #1 bestselling author's sexy, romantic suspense Slow Burn series…

They say young love doesn't last, but a girl from the wrong side of the tracks with unique abilities and the hometown golden boy were determined to defy the odds. For Zack Covington, Anna-Grace-his "Gracie"--was the one.

But one night forever altered the course of their future; when a devastated Gracie disappeared without a trace, Zack was left to agonize over what happened to the girl he loved. As the years passed, his desperate efforts to find her uncovered nothing. Now working for Devereaux Security, he stumbles across a painting featuring a special place only he and Gracie would know. The image is too perfectly rendered for it to be coincidence. His Gracie must be alive. When he comes face to face with her, he is shocked-and heartbroken-to discover the wounded shell of the girl he once knew and still loves. Her psychic gifts are gone, and worse, she believes he betrayed her all those years ago.

Zack has enemies, and once his weakness is discovered, Gracie becomes a target for revenge. He'll have to save her before he can earn her trust and her love. And he vows they'll never be torn apart again.
Amazon:

link


B&N:

link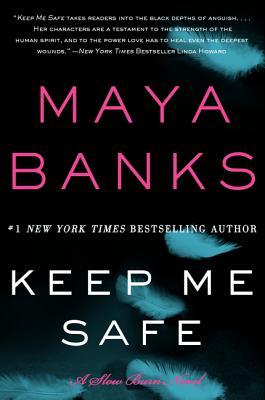 KEEP ME SAFE: A SLOW BURN NOVEL



When Caleb Devereaux discovers his younger sister, Tori, is kidnapped, he quickly turns to an unlikely source for help: Ramie St. Claire, a beautiful and sensitive woman with a psychic gift for finding answers others cannot. The two quickly find out their chemistry is undeniable and an intimate relationship follows.

While Ramie can connect to victims and alert authorities to their locations, her ability comes with a steep price. Every time she uses it, she experiences the same torture as the victim. Helping the infuriatingly attractive and impatient Caleb find his sister nearly kills her. Even though his sexual intensity draws her like a magnet, she needs to get as far away from him as she can.

Deeply remorseful for the pain he has caused, Caleb is determined to make things right. But just when he thinks Ramie's vanished forever, she reappears. This time she's the one in trouble and is in desperate needs of his help. Caleb will risk everything, including his heart, to protect her from a relentless and cruel murderer, who will stop at nothing and no one until he gets to Ramie.
Amazon:

link


B&N:

link



IN HIS KEEPING: A SLOW BURN NOVEL



Arial knows the rules that keep her safe. She's been following them since she was a little girl: Do not tell. Do not show. But in a moment of terror, facing an attacker intent on taking more than just her life, she has no choice but to unleash the psychic powers she's been hiding since childhood.

Now, with Ari's abilities revealed, a bigger threat looms - something that makes her question everything she thought she knew about her parents and her secretive upbringing. But this isn't a fight she can face on her own.

As the head of Devereaux Security, Beau Devereaux is no stranger to the bizarre. But when he takes on a new client--a beautiful young woman with an extraordinary gift--Beau isn't prepared for the extent of his attraction to her. What began as a simple assignment quickly turns personal as he discovers he'll do anything it takes to protect Ari, the woman he loves.

Amazon:

link


B&N:

link

Maya Banks is a multiple #1 USA Today and New York Times bestselling author whose chart toppers have included erotic romance, romantic suspense, contemporary romance, Scottish historical romances. She is the author of the Breathless Trilogy, the Surrender Trilogy, the KGI novels, the Sweet series, and the Colters Legacy novels.

She lives in the South with her husband and three children and other assorted babies, such as her two Bengal kitties and a Calico who's been with her as long as her youngest child. She's an avid reader of romance and loves to dish books with her fans and anyone else who'll listen! She very much enjoys interacting with her readers on Facebook and Twitter as well as in her Yahoo! Group.

a Rafflecopter giveaway