Back in October, I bought a box of cozy mysteries at a yard sale. During the Christmas week, I picked up Jenn McKinlay's

SPRINKLE WITH MURDER

, Book 1 in The Cupcake Mystery Series. Like most cozy mysteries, it was an easy read to pick up and put down when the holidays (and family) demanded my attention.
Melanie Cooper and Angie DeLaura are finally living out their dream as the proud owners of the Fairy Tale Cupcakes bakery. But their first big client is a nightmare. She's a bridezilla who wants 500 custom cupcakes for her wedding.

When Mel stumbles upon the bride-to-be dead-by-cupcake, she becomes the prime suspect. To save themselves and their business, the ladies need to find the real murderer, before the cupcake killer ices someone else.
Creative cupcakes from my church's Strawberry Festival (

link

)
You know, all that really matters is that the people you love are happy and healthy. Everything else is just sprinkles on the sundae. - Paul Walker
For Melanie Cooper, all that really matters is following her dream of baking cupcakes. She gave up her high paying (but ever demanding) marketing job in Los Andgles. Mel moved home to Scottsdale, Arizona, to open her own bakery with childhood friend Angie DeLaura. They are financed by silent partner, Tate. Mel, Ang, and Tate became friends in elementary school when they were targeted by bullies. They enjoy watching movies on Saturday night and quoting movies all week long.
Movie night is now threatened by Tate's engagement to fashion designer Christie. Tate suggests Melanie create a wedding cake (of cupcakes) to generate publicity for Fairy Tale Cupcakes. Mel finds it difficult to work with the Bridezilla yet she does not question her pal's choice for a spouse. She does not want to spoil his happiness ... but the happiness is short lived when Mel finds the Bridezilla murdered in her own showroom.
SPRINKLE WITH MURDER

follows the typical cozy mystery pattern of an amateur sleuth, red herrings, and unexpected murderer. I enjoyed

SPRINKLE WITH MURDER

for the delicious backdrop of a cupcake bakery - I appreciated Mel's effort to take a chance on herself. The secondary characters added humor to move the plot along. The movie quotes throughout the storyline became the sprinkles on the cupcakes - a colorful addition.
Recommended read for fans of cozy mysteries, modern heroines, cupcakes, and movie quotes.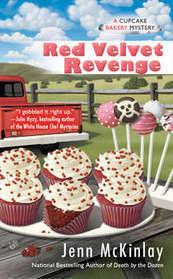 I also found

RED VELVET REVENGE

in the box ... it is Book 4 in the series.
It may be summertime, but sales at Fairy Tale Cupcakes are below zero--and owners Melanie Cooper and Angie DeLaura are willing to try anything to heat things up. So when local legend Slim Hazard offers them the chance to sell cupcakes at the annual Juniper Pass rodeo, they're determined to rope in a pretty payday!

But not everyone at the Juniper Pass is as sweet for Fairy Tale Cupcakes as Slim--including star bull-rider Ty Stokes. Mel and Angie try to steer clear of the cowboy's short fuse, but when his dead body is found face down in the hay, it's a whole different rodeo.
With a vengeful murderer on the loose, the ladies are quickly realizing that while they came to save their business, they may have to save themselves--and that's no bull.
More cupcakes ...
I still love red velvet cake. - Molly Sims
Mel, Ang, and Tate pack up four flavors of cupcakes, including Red Velvet, to capture the sweet tooth of rodeo fans in Juniper Pass (they also escape the summer heat and off season in Scottsdale). The cupcake gang are parked next to a bar-b-que duo who give them grief for their pink aprons. Luckily, families enjoy cupcakes along with cowboys ... until the star of the rodeo is murdered. Mel lends a hand with the investigation as she competes with Bubba Pit Beef for vendor pride.
RED VELVET REVENGE

is wholesome fun, starting with the "drag race" between two bakery vans ... to the city slickers embracing western wear ... to corralling a bull on the loose ... to Mel's resourcefulness in selling cupcakes for breakfast - just add bacon to maple frosting! Having only read the first book in the series, it was obvious that the characters developed in books 2 and 3. However, it was easy to catch up and get back in the action of cupcake wars!
Now I have to find Book 2,

BUTTERCREAM BUMP OFF

, and Book 3,

DEATH BY THE DOZEN

.
I am giving away a book choice from my convention stash. To enter the giveaway,
1. Leave a comment about cupcakes - do you have a favorite flavor of cake and/or icing? Do you like sprinkles? Do you like to make them?
2. Comments are open through Saturday, January 9, 10 pm in Baltimore.
3. I'll post the winner on Sunday, January 10.
Aloha Spirit in Charm City