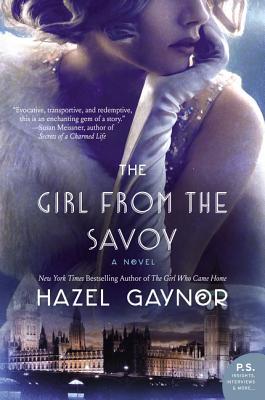 Reminder: I have a special giveaway to celebrate June at this

link

.
Presenting a dazzling new historical novel …

The Girl From The Savoy

is as sparkling as champagne and as thrilling as the era itself.

Sometimes life gives you cotton stockings. Sometimes it gives you a Chanel gown …

Dolly Lane is a dreamer; a downtrodden maid who longs to dance on the London stage, but her life has been fractured by the Great War. Memories of the soldier she loved, of secret shame and profound loss, by turns pull her back and spur her on to make a better life.

When she finds employment as a chambermaid at London's grandest hotel, The Savoy, Dolly takes a step closer to the glittering lives of the Bright Young Things who thrive on champagne, jazz and rebellion. Right now, she must exist on the fringes of power, wealth and glamor—she must remain invisible and unimportant.

But her fortunes take an unexpected turn when she responds to a struggling songwriter's advertisement for a 'muse' and finds herself thrust into London's exhilarating theatre scene and into the lives of celebrated actress, Loretta May, and her brother, Perry. Loretta and Perry may have the life Dolly aspires to, but they too are searching for something.

Now, at the precipice of the life she has and the one she longs for, the girl from The Savoy must make difficult choices: between two men; between two classes, between everything she knows and everything she dreams of. A brighter future is tantalizingly close—but can a girl like Dolly ever truly leave her past behind?
In addition to writing historical fiction, I also write a popular guest blog,

Carry on Writing

, for national Irish writing website writing.ie where I share my thoughts and experiences of the writing process, and also offer tips and advice. I've also been lucky enough to interview lots of amazing authors for the site, including Philippa Gregory, Sebastian Faulks, John Boyne, Cheryl Strayed, Kate Mosse and Rachel Joyce, among others. I also share writing tips and advice on the

Women Writers

website.

Originally from Yorkshire, England, I now live in Ireland with my husband, two children and our cat. Life is slightly chaotic, but always interesting!