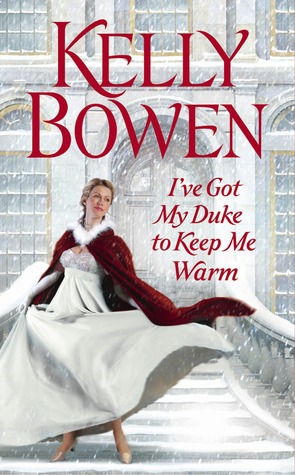 Kelly Bowen joins us today to celebrate the release of

I'VE

GOT MY DUKE TO KEEP ME WARM

. She shares the five "hidden" gems in Canada ....
I am a huge outdoors person who loves to swim, hike, fish, and canoe, so take this with the grain of salt!

1)Lake of the Woods, Ontario

2)Nahanni Falls, North West Territories

3)Queen Charlotte Islands, British Columbia

4)Quebec City, Quebec

5)Hayes River, Manitoba (or for that matter, any back country lake within a 2 hour drive of Winnipeg)



I'VE GOT MY DUKE TO KEEP ME WARM

WHERE SECRETS SMOLDER . . .
Calm. Cool. Collected. Gisele Whitby has perfected the art of illusion-her survival, after all, has depended upon it. Years ago, to escape an abusive husband, Gisele "disappeared." Now she must risk revealing her new identity to save another innocent girl from the same fate. But she needs a daring man for her scheme, and the rogue in question shows a remarkable talent . . . for shattering Gisele's carefully constructed facade and igniting her deepest desires.

. . . PASSION IGNITES
This isn't the first time Jamie Montcrief has awakened naked and confused from a night of drinking. It is, however, the first time a stunningly beautiful woman offers him payment afterward. Gisele has a business proposition for him, a mission involving cunning thievery and a brazen rescue. How can he say no to a plot this dangerous . . . and a woman this delectable?

Kelly Bowen grew up in Manitoba, Canada. She worked her way through her teenage years as a back country trail guide and ranch hand and spent a year working on a cattle station in Australia. She attended the University of Manitoba and earned a Master of Science degree in veterinary physiology and endocrinology.

But it was Kelly's infatuation with history and a weakness for a good love story that led her down the path of historical romance. When she is not writing, she seizes every opportunity to explore ruins and battlefields.

Currently, Kelly lives in Winnipeg with her husband and two boys, all of whom are wonderfully patient with the writing process. Except, that is, when they need a goalie for street hockey.

Forever Romance is hosting a giveaway at this

link

.
I've got Lucky to keep me warm. We both miss Hawaii.