Hawaii Five-0 is back for its sixth season on Friday nights. From

CBS.com

,
The sixth season of Hawaii Five-O premieres with "Do Not Disturb the Water that is Tranquil," as a murder leads the Five-0 team to investigate a centuries old pirate story involving buried treasure and a killer who is using the back of a stolen painting as a map.
The episode opens with pirates invading Honolulu in the 1880s, interrupting a state dinner hosted by King Kalakaua. Coming back to the present, Hawaii Five O jumps into Kono's wedding reception with her "cousin" Tia Carrere singing a Hawaiian ballad.
Born and raised in Honolulu, Tia Carrere is a Grammy award-winning musical artist of Hawaiian music.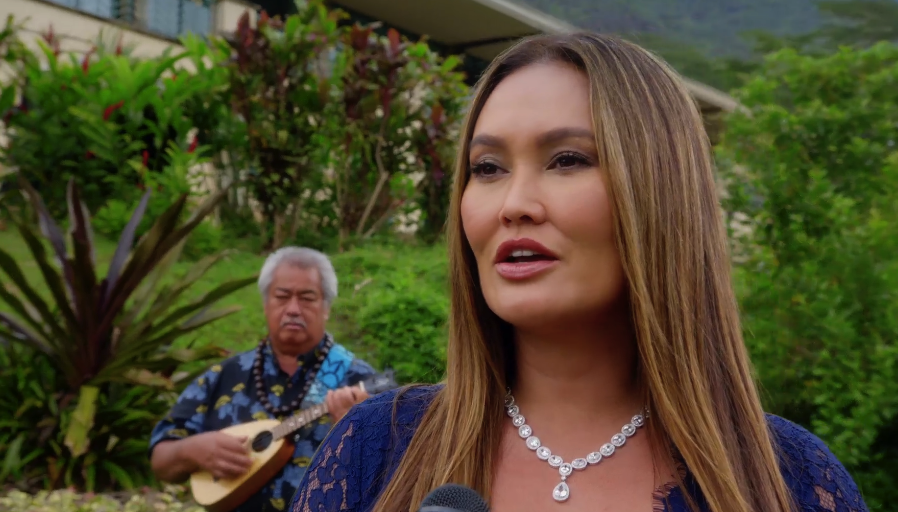 cbs.com

While the H50 family and friends are enjoying the wedding, an archaeologist turned treasure hunter is murdered on the other side of the island. The H50 team is activated the next morning to investigate ... and Steve asks Jerry (aka Mr. Conspiracy Theory) to fill in for honeymooning Kono. They soon learn the archaeologist was searching for the pirate's booty from 'Iolani Palace.
The episode follows the typical pattern of most police procedural series with high tech gadgets, facial recognition, car chases, and fight scenes. Three things set Hawaii Five-O apart:
1. The bromance. Steve and Danno are back in action, squabbling as they drive across the island to each crime scene. Yet Danno breaks into a huge smile when Steve announces his plans to ask Catherine to marry him. Even the cynic in Danno can't help but be happy for his SEAL pal.

2. The cast. They play off each other. When the team discovers the murderer is a descendant of one of the pirates,
Jerry: "The coconut doesn't fall too far from the tree."
Steve: "It's the apple that doesn't fall too far."
(Chin Ho enters the room and they tell him about the connection)
Chin Ho: "The apple doesn't fall too far from the tree."
3. Hawaii. H50 incorporates its culture and beauty into every episode.

Mahalo, Hawaii Five-O, for taking me back to paradise.
cbs.com

I am giving away a book choice from my convention stash to one randomly selected commenter. To enter the giveaway,
1. Leave a comment about coconuts (or apples) - do you like coconut (or apple) pie? Or some other delicacy?
2. Comments are open through Saturday, October 3, 10 pm in Baltimore.
3. I'll post the winner on Sunday, October 4.
Aloha Spirit in Charm City