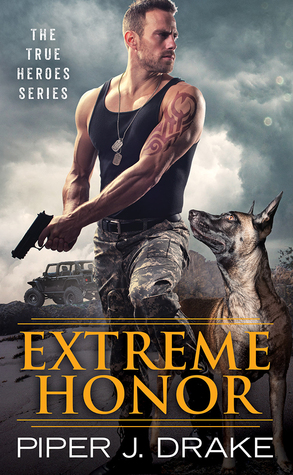 Piper J. Drake is getting ready for the release of

EXTREME HONOR

, True Heroes Book One, available January 26 from Forever Romance:
David Cruz is good at two things: war and training dogs. The ex-soldier's toughest case is Atlas, a Belgian Malinois whose handler died in combat. Nobody at Hope's Crossing kennel can break through the animal's grief. That is, until dog whisperer Evelyn Jones walks into the facility . . . and into Atlas's heart. David hates to admit that the curvy blonde's mesmerizing effect isn't limited to canines. But when Lyn's work with Atlas puts her in danger, David will do anything to protect her.

Lyn realizes that David's own battle scars make him uniquely qualified for his job as a trainer. Tough as nails yet gentle when it counts, he's gotten closer to Atlas than anyone else-and he's willing to put his hard-wired suspicion aside to let her do the same. But someone desperate enough to kill doesn't want Lyn working with Atlas. Now only teamwork, trust, and courage can save two troubled hearts and the dog who loves them both . . .
Piper J. Drake

(or "PJ") spent her childhood pretending to study for the SATs by reading every interesting novel she could borrow from the local and school libraries. She was introduced to the wonderful world of romance by her best friend and dove into the genre.

PJ began her writing career as "PJ Schnyder" writing sci-fi & paranormal romance and steampunk. She has recently received the FF&P PRISM award for her work as well as the NJRW Golden Leaf award and Parsec award.

Now, PJ is exploring the complexity of romantic suspense, incorporating her interests in mixed martial arts and the military into her writing.
Military families enjoy Dog Beach on Pearl Harbor
I am giving away a print copy of

EXTREME HONOR

to one randomly selected commenter. To enter the giveaway,
1. Let's chat about dogs - do you have a favorite breed? name? trick? We are a feline family but I often care for friends' dogs, including a pug who ignores my cats.
2. Comments are open through Saturday, January 23, 10 pm in Baltimore.
3. I'll post the winner on Sunday, January 24.

Mahalo,
Aloha Spirit in Charm City
Coming in July 2016