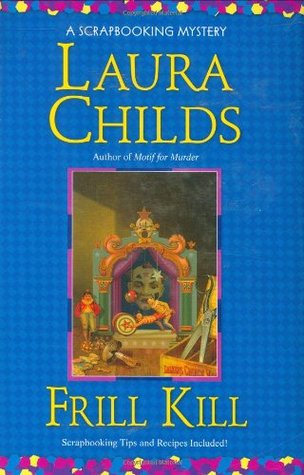 Our church recently hosted a yard sale where I bought a box of books, including a mish mash of cozy mysteries. I first dove into Laura Childs'

FRILL KILL

, Book 5 in the Scrapbooking Mystery series:
With Halloween barely a week away, things are spookier than ever in New Orleans. A party at Juju Voodoo draws a fabulous throng, and Carmela's friend Ava has hired a sexy tarot card reader named Giovanni to work the crowd. What he doesn't foretell is that on her way home, Carmela will discover the body of a beautiful model behind a Dumpster--and be attacked herself!



FRILL KILL

was an easy read, even for jumping into the fifth book in a series. I enjoyed celebrating Halloween in the French Quarter of New Orleans. Although I do not partake in scrapbooking, I appreciated how Childs shared the characters' enthusiasm for their creative outlet.
I also found Laura Childs'

THE JASMINE MOON MURDER

, Book 5 in the Tea Shop Mystery series (perhaps five is my lucky number):
The traditional Ghost Crawl in Charleston's Jasmine Cemetery is an annual autumn event. Under a full moon, amateur actors attired in Civil War-era costumes re-enact historic scenes with a flourish of pageantry and pomp. But as stage lights flicker and dim, and actors appear and disappear among ghostly gravestones, something goes terribly wrong. Dr. Jasper Davis, Jory Davis's uncle, clutches his chest in pain and collapses. Even though the paramedics arrive moments later, Theodosia soon learns that their heroic efforts were in vain. For nothing could have revived Jury's uncle from a mysterious and toxic does of Fentanyl!
Again, I jumped right into the middle of series and felt right at home with the characters as they sipped tea in historic Charleston. In fact, the tea culture may have overshadowed the weaker mystery.

THE JASMINE MOON MURDER

was still an entertaining read as I enjoyed the Southern charm oozing from the cobblestone streets, antebellum houses, and Battery promenade. I am ready to visit Charleston and even stroll through the Jasmine cemetery ... with a cup of tea as a reward!
Laura Childs is prolific writer. From her bio (

link

),
Laura Childs is the New York Times bestselling author of the Tea Shop Mysteries, Scrapbook Mysteries, and Cackleberry Club Mysteries. In her previous life she was CEO/Creative Director of her own marketing firm and authored several screenplays. She is married to a professor of Chinese art history, loves to travel, rides horses, enjoys fund raising for various non-profits, and has two Chinese Shar-Pei dogs.
I am giving away a book choice from my convention stash. To enter the giveaway,
1. Can you recommend a favorite read with a Halloween theme? I loved Laura Levine's

DEATH OF A NEIGHBORHOOD WITCH

(

link

) - a laugh out loud cozy mystery from the creator of Count Chocula and Frankenberry cereals.
2. Given the shipping costs, this giveaway is open to US residents only.
3. Comments are open through Sunday, October 30. I'll post the winner on Sunday, October 31.
Aloha Spirit in Charm City