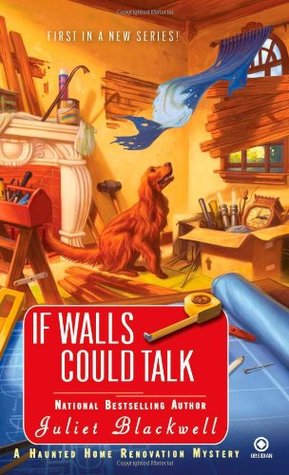 I've spent considerable time at my local library, looking for new cozy mysteries to discover. Enter Juliet Blackwell (

link

),
Juliet Blackwell was born and raised in the San Francisco Bay Area, the youngest child of a jet pilot from New York and an editor from Texas. She graduated with a degree in Latin American Studies from University of California, Santa Cruz, and went on to earn Masters degrees in Anthropology and Social Work from the State University of New York, Albany.

Juliet lives in a hundred-year-old house with extensive botanical gardens in Northern California, but spends as much time as possible in Europe and Latin America. She believes in the magic of language, travel, and cultural exchange to open hearts, minds, and souls.
Blackwell kicks off the Haunted Home Renovation mystery series with

IF WALLS COULD TALK

:
Melanie Turner has made quite a name for herself remodeling historic houses in the San Francisco Bay Area. But now her reputation may be on the line.
At her newest project, a run-down Pacific Heights mansion, Mel is visited by the ghost of a colleague who recently met a bad end with power tools. Mel hopes that by nailing the killer, she can rid herself of the ghostly presence of the murdered man-and not end up a construction casualty herself...
Blackwell draws from her own life as an anthropologist - turned - historical house renovator to create a memorable character with Melanie - a divorced anthropologist who takes over her father's home renovation business, which specializes in historic houses, after her mother's death takes its toll on her Marine dad. Mel would rather run off to Paris but she puts her best steel toed boot covered foot forward to keep her family together.
Blackwell adds colorful characters to create more chaos in this cozy mystery as Mel proves herself as a female contractor while communicating with the ghostly inhabitants of the historic homes she lovingly restore. As a fan of reality TV shows that feature house hunting, remodeling, and flipping,

IF WALLS COULD TALK

drew my attention to Mel's love for vintage charm of historic houses. Mel acknowledges that she always felt the "bricks and mortar" speaking to her ... and she reluctantly embraces her ability to hear the spiritual being soon after she begins remodeling (just as I feel when I explore crumbling castles).

I have also read

MURDER ON THE HOUSE

(Book 3) and

HOME FOR THE HAUNTING

(Book 4) thanks to my local library. I found myself drawn into Mel's zany life, her description of the San Francisco Bay Area, and her heartfelt love for restoring a house to its former glory.
I am giving away a book choice from my convention stash to one randomly selected commenter. To enter the giveaway,
1. Have you visited San Francisco? Do you watch any home renovation shows?
2. Comments are open through Sunday, January 15, 10 pm in Baltimore.
3. I'll post the winner on Monday, January 16.

Mahalo,
Aloha Spirit in Charm City