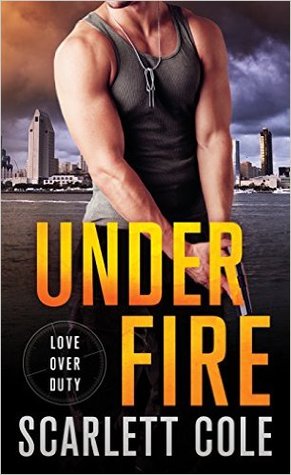 I spotted Scarlett Cole last week at RWA in Orlando .... and today we celebrate

UNDER FIRE

, Book 1 in her new series Love Over Duty ...
Hot, hard-bodied Sixton Rapp is a former SEAL who's raring to begin his brand-new civilian life. He and his Navy "brothers" start a security firm that offers the kind of services only a team of military-trained professionals can provide. But nothing prepared Six for his new client: an innocent woman on a mission to improve thousands of lives. . . unless someone takes hers first.
Dr. Louisa North knows time is against her as she tries to create a "miracle" medical treatment for a disease with no known cure, until she creates a sample so powerful that the wrong people want to use it as a chemical weapon. At first, Six is unwilling to accept Louisa as his client. But soon he realizes that the danger is real and that there's much more to this plain-Jane scientist…including a burning passion between them that neither of them can resist. And now that an enemy is on Louisa's trail, Six will do whatever it takes to protect her—or die trying.
Amazon
B&N
iBooks
Kobo
Google Play

When Scarlett isn't writing, she spends her time reading, hoarding mason jars, and working out to off-set an epic sour candy habit. Having travelled the world for work and fun, Scarlett is a citizen of both Britain and Canada. A true city-dweller, she considers Toronto and Manchester home and likes to set her books in vibrant locations such as Miami and Los Angeles.

If you want to know more about Scarlett's books, visit her at:



scarlettcole.com




facebook.com/itsscarlettcole




twitter.com/ItsScarlettCole

I am giving away a swag pack from RWA17 to four randomly selected commenters from the posts published in the month of August. To enter the giveaway,
1. Let's chat about mason jars - do you have any tucked away in your cabinets? Do you use them for fruit, candy, candles ... or something else? What's not to love about a jar full of Hershey's Kisses?!?!
2. Comments are open through Thursday, August 31, 10 pm in Baltimore.
3. I'll post the winner on Friday, September 1.
Aloha Spirit in Charm City
Book 2 - coming in 2018