For this year's conference, RWA added a blogger track to run concurrent with the Librarians Day on Saturday. I estimate 30 bloggers participated, with half being at the conference all week. We enjoyed a Meet in Greet with authors, a round table discussion among ourselves, a panel with editors on what's coming to Romanceland, and then the Librarians Day Luncheon with

Brenda Jackson

. She wowed the audience with her humor, humanity, and sincerity that reading brings us hope. I encourage you to check out

#RWA17

on Twitter for quotes from Ms. Jackson.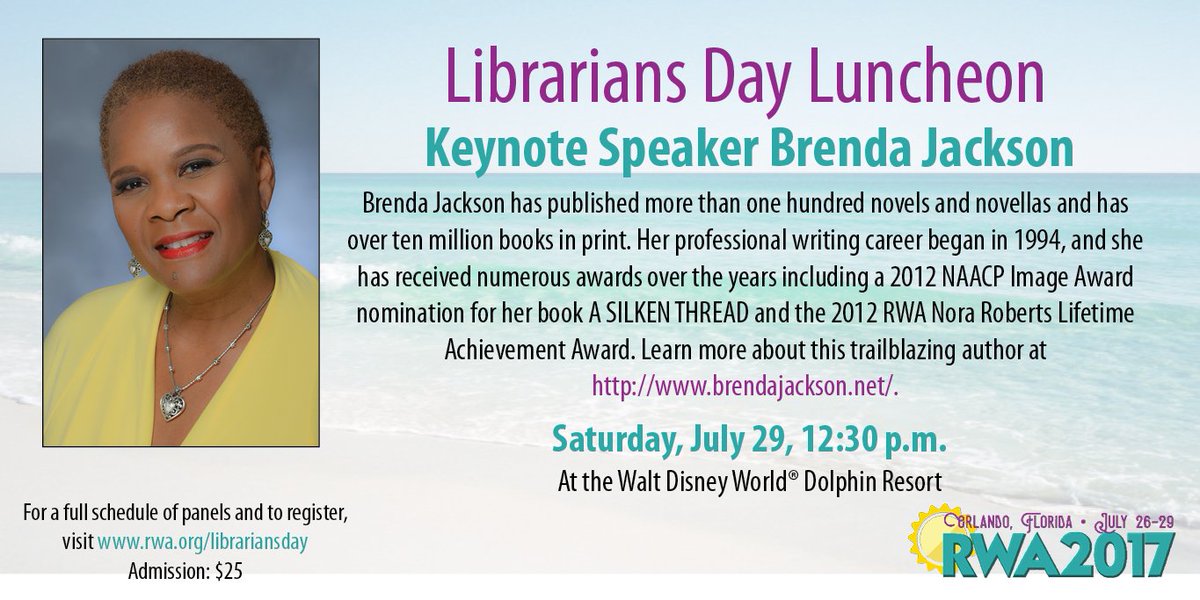 The bloggers were invited to enter the "Readers for Life" Literacy Signing 15 minutes before the 3 pm start time. As I made my way to the ballroom hosting this event,

Tina Dick

from Germany (and recipient of RWA's Vivian Stephens Industry Award,

link

), approached me in the hallway. She reported that the Goody Room contained at least 20 boxes of Harlequin books leftover from the publisher's signing. The Goody Room was ready to close and the hotel staff planned to trash the books and other items in the room. My thrifty self kicked into gear. I called out to those in the room, and even those passing by, "Give me 5 minutes for the military."

Everyone within earshot grabbed a box and took it to the bellhop stand for storage. After the Literacy Signing, I borrowed a car from

Danielle Gorman

and donated the books to the

Shades of Green

, a military resort on Disney property. We also gathered up the baskets left behind for Danielle to take to Goodwill. My duty was done.
During the Literacy Signing, I spotted:
- couples of all ages standing in line to meet the big names such as

Kristan Higgins

and

Sylvia Day

.
- a long line of women in mobility carts waiting to meet

Jill Shalvis

. She stepped away from her table to take a picture with each and every one of those readers.
- three generations of families walking up and down the aisles to meet authors.

Kate Pearce

, featuring her Morgan Ranch books, had "sheriff's badges" on her table. She graciously gave one to a young boy as his mother and grandmother perused her books. Hmm, I wanted one of those badges!
- As I chatted with

Geri Krotow

, a severely disabled woman in a heavy wheelchair was pushed by a friend to Geri's table for the WRW Scavenger Hunt. It is obvious that the specially made wheelchair was difficult to maneuver in the crowd, but the friend was determined. We asked the disabled woman who was her favorite author. She responded, with some challenge, "Lynn Raye Harris." I thought to myself, that is true friendship.
I later bumped into Lynn and asked her if she met this reader. She replied that she did ... and we both dabbed our eyes as they began to tear. It is the hope that romance delivers that makes meeting fans like all of those I described that much more fulfilling. It is the reason why I support Romanceland.
Lynn, left, and Debbie, right
After the signing, I scurried over to the Italian restaurant at the Swan Hotel to enjoy dinner with

Debbie Mason

and friends. Thank you, Debbie, for a delicious dinner and fabulous conversation!

On Sunday morning, I took one last walk around the Boardwalk. I had some bread leftover from the previous night's dinner. I stopped to feed it to some birds. Most grabbed the crumbs and flew away. But I spotted two birds together - maybe siblings, maybe lovers, maybe friends. As one bird grabbed a crumb, that bird then fed it to the other.
And that, dear readers, is love.
I am giving away a swag pack from RWA17 to four randomly selected commenters from the posts published in the month of August. To enter the giveaway,

1. Let's chat about birds - do you have a favorite? When we lived in Hawaii, I often spread out bird feed for all of the colorful (and tiny) birds to eat in my backyard. But I was most intrigued by the

Pacific Golden Plover

, aka

kōlea

,

who is revered in Hawaiian culture. Hawaiians believe it is the plover who guided the early Polynesians to the Hawaiian islands.

2. Comments are open through Thursday, August 31, 10 pm in Baltimore.

3. I'll post the winner on Friday, September 1.

Mahalo,

Kim in Baltimore
Aloha Spirit in Charm City
Pacific Golden Plovers
US Fish and Wildlife Service (

link

)