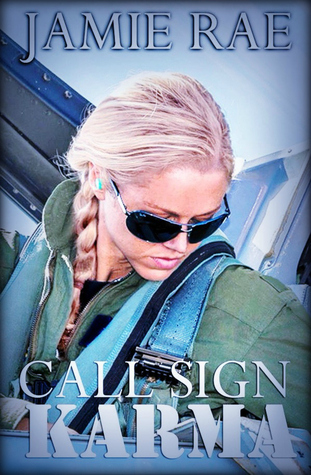 It is my distinct pleasure to welcome my fellow AF veteran, Jamie Rae. She is celebrating the release of

CALL SIGN KARMA

. Jamie joins me for a cozy chat ..
JAMIE RAE is a New Adult and Young Adult author. She writes with one goal in mind - to create a story with a positive message that will stay with the reader long after they've finished reading.

Jamie is an avid reader and loves discovering stories with a great hook! She will not eat, sleep, or speak until she reaches the end. The Harry Potter years weren't pretty!! Convinced that her Hogwarts letter was lost in the mail, she keeps a watchful eye for owls hoping her children will have better luck!

​In her other life, Jamie Rae creates smiles to last a lifetime as an orthodontist, keeps her heart overflowing with love as a mother of three and has perfected the art of nomadic living as a military spouse and Air Force veteran. Jamie has a passion for critters of all shapes and sizes and you can often find her sneaking them into her own home or volunteering for rescues.
Kim

: Thank you for your service as an Air Force veteran! Can you share a funny story from your active duty?
Jamie

: Oh, wow! I have so many and some may have found their way into the story. At least the names have been changed to protect the not-so- innocent! ;-) How about a toned down one. I met my hubby when we were both stationed at Osan AB in South Korea. Our first "official" date was a Bad Company concert on the Fourth of July in the commissary parking lot. It doesn't get any more romantic than that! ☺



Kim

: I appreciate your statement, to create a story with a positive message that will stay with the reader long after they've finished reading. Why is this important create a positive message?



Jamie

: I want my story to go beyond the words on the page. The story should entertain but I also want to provide something more of significance. If I am able to make a difference in someone's life, even if it is only one person, then I know that I have done my job. I have received messages from readers that have said Call Sign Karma had them laughing, cheering, swooning, and gripping the edge of their seats. I absolutely love that readers are connecting to the story in this way.

I've also had readers say that they love that Tink is a strong female lead and we need heroines that are more relatable. When I wrote Tink's character I wanted her to be "real" and to show that even though life has kicked you in the gut, you can still find the strength to come out on top and survive.

One of my most special comments came from a reader who reached out to me about the Post Traumatic Stress aspect of the story. She shared a personal situation, passed along a portion of the story in particular that spoke to her, and gave her a sense of clarity. It brought tears to my eyes and I knew that I had accomplished what I had set out to do with this story.



Kim

: Who or what helped you along the path to publishing?



Jamie

: It's been a long an interesting path. I don't know how to take no for an answer. I worked hard and kept myself focused. Thankfully I had so many wonderful people in my corner who encouraged, critiqued, submitted, and championed my work. I feel very blessed.



Kim

: Tell us about

CALL SIGN KARMA

- what inspired it?
Jamie

: As a military veteran and Air Force spouse to a fighter pilot, I wanted to write what I knew and write what I love. And that's the Air Force. In addition, in my life, I've been blessed and surrounded by many strong female role models and I wanted to be certain that Tink could inspire with a message that women can succeed and excel in what may not be considered a traditional female role.



Kim

: What's next for Jamie Rae?
Jamie

: I'm currently working on Book 2 in the series titled Operation Keeping the Faith as well as revising my Young Adult Paranormal, Jinx.

Mahalo, Jamie, for promoting positive role models for young women! I am giving a digital copy of

CALL SIGN KARMA

to one randomly selected commenter. To enter the giveaway,
1. Leave a comment about your "call sign" - what would be your nickname? Mine would be Hula for my love of Hawaii.
2. Comments are open through Saturday, February 7, 10 pm in Baltimore.
3. I'll post the winner on Sunday, February 8.
Aloha Spirit in Charm City
The War Memorial of Korea