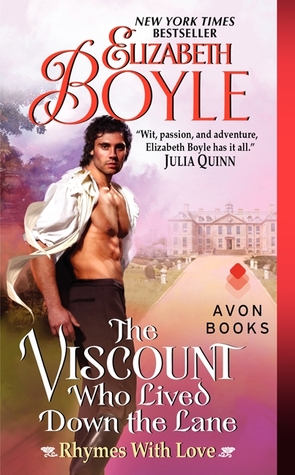 In New York Times bestselling author Elizabeth Boyle's fourth novel in the Rhymes With Love series, a resolute young woman goes toe-to-toe with the Beast of Mayfair...
She has no desire for love...

As she arrives in Mayfair, Louisa Tempest is horrified when her incorrigible cat bolts from the carriage and dashes into a neighbor's house, where she comes face-to-face with the reclusive Viscount Wakefield. But even more dismaying than his foul temper is the disarray in which she finds his home. Convinced his demeanor would improve if his household were in order, Louisa resolves to put everything to rights.

...until she meets the viscount who lives down the lane.

Much to his chagrin, Wakefield finds it impossible to keep the meddling Louisa out of his home, invading his daily life with her "improvements," and his nights with the tempting desires she sparks inside him. Wounded in the war, he's scorned society ever since his return . . . until Louisa opens the door to his heart and convinces him to give love a second chance.
My thirst for adventure will never be quenched! - Puss in Boots (Shrek)
In Regency England, Hannibal embraces Puss in Boots' attitude. He is an ungrateful cat who escapes from his fair maiden's carriage upon their arrival in London. The maiden chases after her beloved pet, only to find herself in the liar of the dragon.
Elizabeth Boyle taps into nursery rhymes to create a humorous romance between a tidy spinster and a wounded warrior. She delivers a Regency style fairy tale with a dose of Jane Austen, Erma Bombeck, and Martha Stewart. Yet Boyle weaves compassion and redemption into the story that leaves the reader - and Hannibal - purring in content.
THE VISCOUNT WHO LIVED DOWN THE LANE

is Book 4 in the Rhymes with Love series. I have not read the previous books (gasp!) but I was able to read this romance as a stand alone story. In fact, I could not put this book down much to my cats' dismay for having my attention diverted from them.
Recommended read for fans of Beauty and the Beast, both human and feline.
I received a coy of

THE VISCOUNT WHO LIVED DOWN THE LANE

as a gift.
I am giving away Avon swag to one randomly selected commenter. To enter the giveaway,
1. Do you have a favorite animated character? I'm partial to the Cat in the Hat.
2. Comments are open through Saturday, March 7, 10 pm in Baltimore.
3. I'll post the winner on Sunday, March 8.
Aloha Spirit in Charm City
Meet Elizabeth at the

SOS America Military Tribute

during the RT Booklovers' Convention at this

link

.