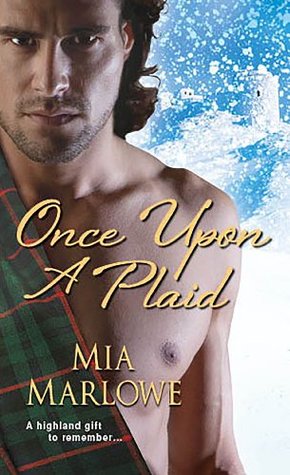 Mia Marlowe is celebrating the release of

ONCE UPON A PLAID

, a Medieval Highlander romance laced with holiday spirit from her Spirit of the Highlands series ...
Many would count Katherine Douglas fortunate indeed. Laird William Douglas is broad-shouldered, gentle-handed, everything a lass could dream. But after four years of marriage, Katherine still knows little of what goes on in his heart. And she has yet to bear him an heir. The distance between them is too great—and so she flees over the snowy highlands to Glengarry Castle, home of her childhood, to set her husband free.

But William won't let his wife slip away without a fight. Before long, he's at her father's threshold himself, witness to the rumbles of discontent in Glengarry, the bright joy of Yuletide at a family hearth, and the hidden needs of his own beloved…
My mother recently returned from a trip to the UK, including Scotland, bringing back bookmarks for me to giveaway. One randomly commenter wins a choice of bookmark! To enter the giveaway,
1. Leave a comment about a special holiday tradition in your family (commenter's choice of holiday).
2. Comments are open through Saturday, October 11, 10 pm in Baltimore.
3. I'll post the winner on Sunday, October 12.
Aloha Spirit in Charm City
Check out my review of

PLAID TIDINGS

, Book 1 in the series, at this

link

.