Mo'o 'olelo Pu - Sharing Traditions:
When Kono goes on a solo outrigger trip around the Hawaiian islands in honor of her mother, she hits a patch of wild weather and must fight to stay alive. As Five-0 searches for Kono, they investigate a man busted for cooking meth who claims he received a threat on his son's life if he didn't continue making the drug.
Mo'o 'olelo Pu opens on Bellows Beach - a stretch of ocean front land own by the federal government. I posted pictures on my travel blog

here

and

here

. Bellows Beach was a favorite hideaway when I lived in Hawaii ... so this episode is off to a great start.
Each segment of this episode opens with an appropriate quote, including surfing icon and swimming champion, Duke Kahanamoku, "Out of the water, I am nothing."
The H50 gang comes out to wish bon voyage to Kono on Bellows Beach. Kono's father also brings her mother, stricken by an aneurysm, to bid Kono farewell. We learn that Kono is making this voyage in honor of her mother, who made the voyage herself from Oahu to Molokai (it is 26 miles between the two closest points of each island).
Shortly after Kono's departure, she encounters bad weather which capsizes her wa'a - an outrigger canoe. She is able to rescue her satellite phone, a bag of sand, and her paddleboard (she places her phone in the bag for the sand to dry it out). Over the next few hours, Kono struggles to stay aboard her paddleboard. She has flashbacks to her mother teaching her to surf, "You're going to get knocked off your board many times…the only thing that matters is you get back up."
Once the weather passes, Kono reads the stars, including Na hiku (the Big Dipper), Hokupa'a (the North Star), and 'Iwa Keli'i (Cassiopeia). In the morning, she hallucinates her mother is also in the water, leading her leading her back to land. K
ono realizes she is imagining her mother and breaks down in anger.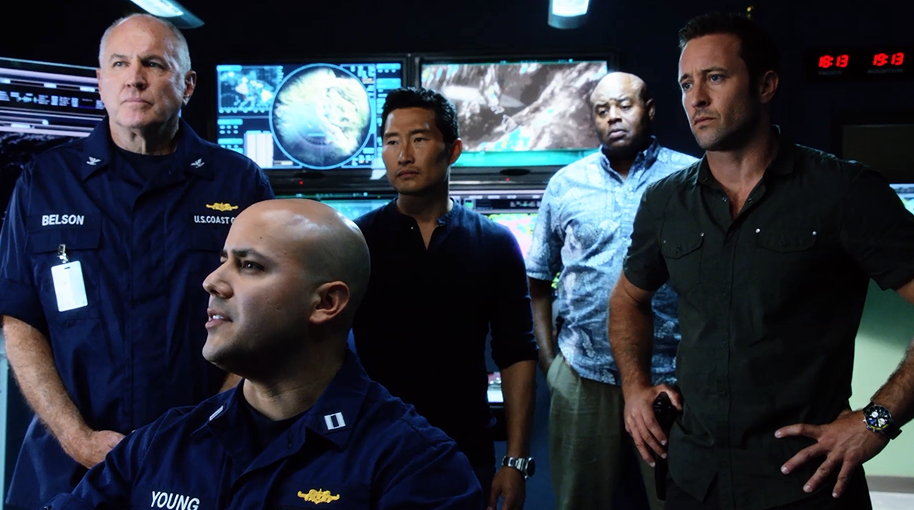 She is forced to spend one more night on the water but notices her satellite phone is finally dry. She is able to reach Chin Ho before more bad weather disconnects the call. Steve asks the Coast Guard to launch a search. When the commander delays an aerial search due to the weather, Steve replies, "I will go." Ultimately, the weather passes, the helicopters launch, but the H50 team is unable to locate Kono. Instead, Kono paddles her way to shore by the morning. The episode ends with the H50 team receiving a call that Kono is safe.
Hawaii Five O (

link

) tweeted trivia during the broadcast:
Kawika's prayer "hele e ka wa'a" translates to "in strength to the canoe on its journey across the ocean."

#H50
Kawika is performing the pi kai blessing, a purification ceremony for newly-made wa'a involving ti leaf and salt water.

#H50



The momoa,the hull of the wa'a, is a nonfunctional feature of the canoe believed 2 serve as a seat for a paddler's ancestral spirit.

#H50

Paddlers on the Hokule'a, a 60ft double-hulled wa'a, replicated the voyage made by ancient Polynesians b/n Tahiti & Hawaii in 1975.

#H50
This episode was all about Kono. The director showcased her dedication to Hawaiian traditions and her inner strength when she needed it.

Mo'o 'olelo Pu

is now my third favorite episode, just behind the Pilot (

link

) and

Ho'onani Makuakane

- Honor Thy Father (tribute to December 7, 1941,

link

).
Watch

Mo'o 'olelo Pu

on

cbs.com

(

link

) or on demand.
May is National Military Appreciation Month. For the month of May, I am giving away one grand prize of books and swag from the authors featured this month (

link

). Plus five more commenters - one for each branch of service - wins a book choice from my convention stash. To enter the giveaway,

1. Do you have sea legs? I do not.

2. Comments are open through Sunday, May 31, 10 pm in Baltimore.

3. I'll post the winner on Monday, June 1.
Mahalo,

Kim in Baltimore
Aloha Spirit in Charm City
This episode reminded me of

Eddi Aikau

, a legendary surfer and lifeguard at Waimea Beach Park. I posted pictures on my travel blog at this

link

with a special tribute to Eddie. Because Eddie would go.