Sally MacKenzie cohosted the

Battle of Trafalgar

table at the

SOS America Military Tribute

during the RT Booklovers Convention (pictures to come). From her bio,

When not at her keyboard or staring into space musing on her next story, Sally can be found at the gym or in the middle lane of her Masters swim practice, trying to keep all her moving parts working. She loves to travel, particularly to England where she drags her poor husband to historic sites in the name of research or—as he puts it—to look at spoons. But since she also enjoys hiking over the English countryside, he remains relatively content. Sadly she doesn't cook (but her husband does!) or clean, but she has good intentions...sort of.
I walked 5+ miles several mornings in Dallas - she has a fast clip!
Above, Sally (second from right) attended the SOS America Military Tribute in Chicago in 2012. Sally is ready to celebrate the release of

IN THE SPINSTER'S BED

, available June 30:
At Spinster House, a woman can enjoy the spoils of single life—or find the love of a lifetime…
It has been twenty years since Lord William Wattles laid eyes on Annabelle Frost. Still, he remembers everything—her ethereal beauty, her bookish intelligence, her surprisingly modern attitudes about love...and lust. But Belle's allegedly wanton behavior led her father to send her away to save the family's reputation. Now she resides at Spinster House in the village of Loves Bridge, where an unmarried lady can live—and in Belle's case, support herself as a librarian—in peace...
Beautiful, passionate Belle—sworn off marriage? William can't believe the woman he once knew could end up like this. But when the hands of fate bring him to Loves Bridge, his long-lost love might just end up back in his arms. Is their unwavering desire worth the sweeping scandal that is sure to follow them both? Absolutely.
It is the prequel for her new series, The Spinster's House, with Book 1,

WHAT TO DO WITH A DUKE

, coming August 25.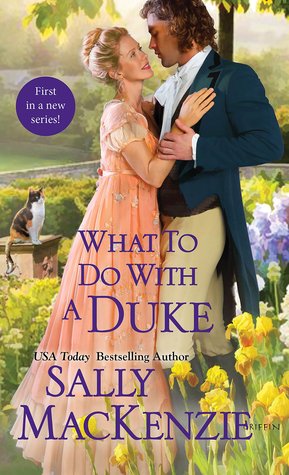 May is

National Military Appreciation Month

. For the month of May, I am giving away one grand prize of books and swag from the authors featured this month (

link

). Plus five more commenters - one for each branch of service - wins a book choice from my convention stash. To enter the giveaway,
1. Both covers from Sally's new series feature a Calico Cat in the corner. Do you like pets in romances? Do you like cats? I have four cats, three from Hawaii.
2. Comments are open through Sunday, May 31, 10 pm in Baltimore.
3. I'll post the winner on Monday, June 1.
Aloha Spirit in Charm City