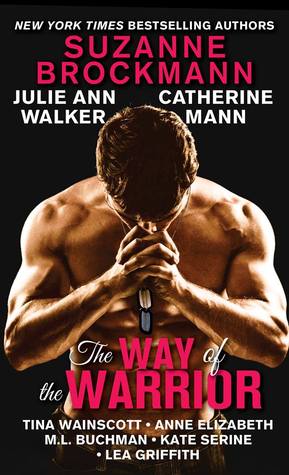 Lea Griffith co-hosted the

Way of the Warrior

table at the SOS America Military Tribute. From her bio,
Lea Griffith began sneaking to read her mother's romance novels at a very young age. She cut her teeth on the greats: McNaught, Woodiwiss and Garwood. As she got older, her need to devour all genres of romance–including contemporary, paranormal and sci/fi–grew. Any romance novels she couldn't buy were borrowed or traded in her quest to read about that elemental emotion that keeps us strong: love. She still has most of those books; dog-eared, their pages yellowed with age, they still bring her joy.
Lea lives with her husband and three teenage daughters in rural Georgia and she writes her own stories now. With two dogs, a cat and a beta fish named Coddy George, there is never a dull moment. When she's not working her day job you can usually find Lea at her keyboard, using every spare second to write. Shifters, artificial intelligence, and gene splicing, oh my! Nothing is off-limits when it comes to her writing.
You can visit Lea via:
Facebook Profile
Facebook page
Twitter
Pinterest
Tumblr
Goodreads
Lea contributed to the

Way of the Warrior

anthology:
Eight passionate love stories about amazing military heroes by bestselling authors:
Suzanne Brockmann, Julie Ann Walker, Catherine Mann, Tina Wainscott, Anne Elizabeth, M.L. Buchman, Kate SeRine, Lea Griffith
To honor and empower those who've served, all author and publisher proceeds go to the Wounded Warrior Project.
The Wounded Warrior Project was founded in 2002 and provides a wide range of programs and services to veterans and service members who have survived physical or mental injury during their brave service to our nation. Get involved or register for programs and benefits for yourself and your family online at

woundedwarriorproject.org

.
"It is a proud privilege to be a soldier." —George S. Patton Jr.
"We sleep safely at night because rough men stand ready to visit violence on those who would harm us." —Winston Churchill
Oahu warrior reaches for the stars ...
Mahalo, Lea, for supporting military personnel and their families! May is National Military Appreciation Month. For the month of May, I am giving away one grand prize of books and swag from the authors featured this month (

link

). Plus five more commenters - one for each branch of service - wins a book choice from my convention stash. To enter the giveaway,
1. Leave a comment about the oldest romance book you have on your keeper shelf - mine is Johanna Lindsay's

UNTIL FOREVER

from 1995.
2. Comments are open through Sunday, May 31, 10 pm in Baltimore.
3. I'll post the winners on Monday, June 1.
Mahalo,
Kim in Baltimore
Aloha Spirit in Charm City