I invited

Ophelia London

to participate in the SOS America Military Tribute at the

RT Booklovers Convention

because she wrote an awesome novella set in Hawaii. From Ophelia's bio,
USA Today bestselling author Ophelia London was born and raised among the redwood trees in beautiful northern California. Once she was fully educated, she decided to settle in Florida, but her car broke down in Texas and she's lived in Dallas ever since. A cupcake and treadmill aficionado (obviously those things are connected), she spends her time watching arthouse movies and impossibly trashy TV, while living vicariously through the characters in the books she writes.
Ophelia recently celebrated the release of

AIMEE AND THE HEARTTHROB

:
He never noticed her before, but now she's all he can see...

Miles Carlisle is every teen girl's fantasy. His rugged good looks and exotic British accent have helped catapult his boy band, Seconds to Juliet, to super-stardom. But after two disastrous and very public breakups, Miles isn't interested in dating just any girl; he wants The One. And the only girl he's interested in is not only his best friend's little sister - and off-limits - but won't even give him the time of day...

As a kid, Aimee Bingham had a huge thing for Miles...until he made fun of her for always tagging along. Now that she's outgrown both him and her pigtails, the prospect of spending two weeks on tour with the childhood crush who broke her heart isn't exactly enticing. Except now Miles seems interested. Very interested. And no matter how hard Aimee tries to resist him, her crush is definitely making a comeback. But everyone knows that falling for a heartthrob is a backstage pass to heartbreak...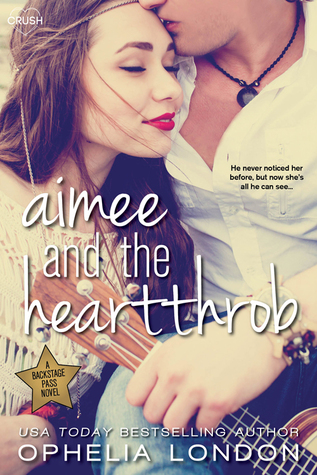 May is

National Military Appreciation Month

. For the month of May, I am giving away one grand prize of books and swag from the authors featured this month (

link

). Plus five more commenters - one for each branch of service - wins a book choice from my convention stash. To enter the giveaway,

1. Cupcakes! What's your favorite? I love anything chocolate!

2. Comments are open through Sunday, May 31, 10 pm in Baltimore.

3. I'll post the winner on Monday, June 1.

Mahalo,

Kim in Baltimore
Aloha Spirit in Charm City