Montpelier Mansion handmade decorations
While searching through my closets (and under the beds) for holiday gifts stashed away, I found Christmas romance novels ... so let's giveaway a Kensington Trio:



MISCHIEF AND MISTLETOE

by the

Word Wenches

aka Mary Jo Putney, Jo Beverley, Joanna Bourne, Patricia Rice, Cara Elliott, Annie Gracie, and Susan Fraser King
Unwrap the most romantic of Regency delights in this sparkling holiday collection. . .

Christmastime in England--a time for passionate secrets, delicious whispers, and wicked-sweet gifts by the fire. From a spirited lady who sets out to save her rakish best friend from an unsuitable engagement, to a bold spy who gets the unexpected chance to win the woman he's always loved, to a vicar's daughter who pretends to be a saucy wench, these holiday tales will make you curl up in front of the fire for a memorable season of mischief and mistletoe. . .
Theresa Romain's

SEASON FOR DESIRE

(Holiday Pleasures, Book 4)
Properly Wicked

Like her four sisters, Lady Audrina Bradleigh is expected to marry a duke, lead fashion, and behave with propriety. Consequently, Audrina pursues mischief with gusto, attending scandalous parties and indulging in illicit affairs. But when an erstwhile lover threatens to ruin her reputation, Audrina has no choice but to find a respectable husband at once.

Who would guess that her search would lead her to Giles Rutherford, a blunt-spoken American on a treasure hunt of his own? When a Christmas snowstorm strands the pair at a country inn, more secrets are traded than gifts—along with kisses that require no mistletoe—and Audrina discovers even proper gentlemen have their wicked side…
Mollie Cox Bryan's

A CRAFTY CHRISTMAS

(A Cumberland Creek Mystery Book 4)
Christmas is just around the corner, and the ladies of the Cumberland Creek Scrapbook Crop are thrilled when Sheila wins the first place prize in a scrapbooking design contest: a ten-day scrapbook-themed cruise in the Caribbean. Vera and Paige decide to tag along, which should pose the perfect opportunity to learn some new techniques, mingle with fellow croppers, and get in some rest and relaxation before the chaos of Christmas. But when Sheila finds a famous crafter dead, and investigators determine she was poisoned, the luxury cruise veers toward disaster as Sheila becomes the number one suspect--or was she really the intended victim? Just as the croppers begin un-wrapping the truth, a storm strands them at sea, and they'll find it's harder than ever to survive the holidays with a killer on deck. . .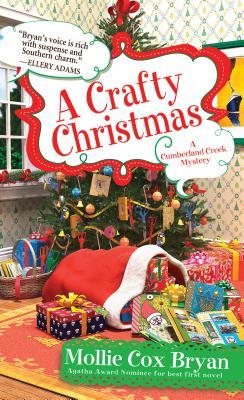 To enter the flash holiday giveaway,
1. Leave a comment - where do you hide holiday gifts?
2. Comments are open through Saturday, December 12, 10 pm in Baltimore.
3. I'll post the winner on Sunday, December 13.
Aloha Spirit in Charm City
Handstrung popcorn garland