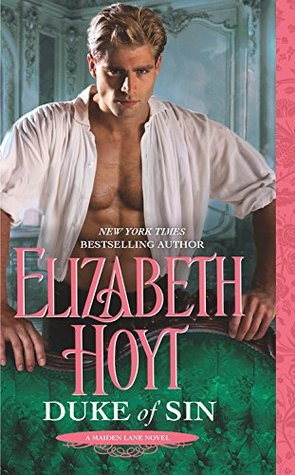 Reminder: I have a special giveaway for Military Appreciation Month at this

link

.
A MAN OF SIN
Devastatingly handsome. Vain. Unscrupulous. Valentine Napier, the Duke of Montgomery, is the man London whispers about in boudoirs and back alleys. A notorious rake and blackmailer, Montgomery has returned from exile, intent on seeking revenge on those who have wronged him. But what he finds in his own bedroom may lay waste to all his plans.
A WOMAN OF HONOR
Born a bastard, housekeeper Bridget Crumb is clever, bold, and fiercely loyal. When her aristocratic mother becomes the target of extortion, Bridget joins the Duke of Montgomery's household to search for the incriminating evidence-and uncovers something far more dangerous.
A SECRET THAT THREATENS TO DESTROY THEM BOTH
Astonished by the deceptively prim-and surprisingly witty-domestic spy in his chambers, Montgomery is intrigued. And try as she might, Bridget can't resist the slyly charming duke. Now as the two begin their treacherous game of cat and mouse, they soon realize that they both have secrets-and neither may be as nefarious-or as innocent-as they appear . . .
Covent Gardens
Some rise by sin, and some by virtue fall. - William Shakespeare
Val enjoys being the villain - he has blackmailed several characters throughout the series. In one case, the blackmail was for a good reason. He coerced Lady Caire to include his bastard sister, Eve, in ladies' charitable projects while he held onto sensitive letters in her handwriting. Although Lady Caire compiled with the Duke's instructions, she asks her own bastard daughter, Bridget Crumb, to apply as a housekeeper to his home. As Bridget searches for the letters (and other items he holds over the ton), she discovers that Val was not born wicked. Instead, he is the product of a monstrous father and a neglectful mother. His destructive attitude - the antithesis of her nurturing life - intrigues her as she considers how to save her mother, the other blackmail victims, and the Duke of Montgomery himself.
Hoyt is a master storyteller. Her writing is rich, decadent, and delicious, much like dark chocolate. Alas, Val is dark chocolate personified. Despite his villainous actions in previous books, Hoyt writes Val in a way that I applaud his bravado. He imbibes in retorts while gorging his ego.
Val challenges Georgian society for their blatant hypocrisy. He is fascinated by Mrs. Crumb. Val wonders why she hides her hair under a mobcap. He questions who gives her the authority to lecture him - a Duke! - about morality. Val even asks what is her Christian name. When she refuses to answer him, he calls her Seraphine,
"This is who I am, Seraphine. Naked, with blade and blood. I am vengeance. I am hate. I am sin personified. Never mistake me for the hero of this tale, for I am not and shall never be. I am the villain."
DUKE OF SIN

is grittier than I prefer but Hoyt tackles the wicked indulgences within Georgian society. That is the beauty of Hoyt's writing - she takes readers on a roller coaster ride of emotions to celebrate love and grieve loss, all part of the circle of life. The plot itself is predictable. Yet Hoyt includes her trademark fairy tale to introduce each chapter, adding an extra dimension to the "fiction that points to truth".
Kudos to Hoyt for the scene with Val, a child, and a kitten - more dark chocolate, this time with a creamy center!
The question remains - did Bridget's love inspire Val to redeem himself? You'll have to read

DUKE OF SIN

to make your own judgement.



DUKE OF SIN

can be read as a stand alone novel. It is closely connected to

SWEETEST SCOUNDREL

, Book 9, with his sister Eve as the heroine. I have only read Book 9 and 10, yet I was able to understand the themes running throughout the Maiden Lane series.
I received an ARC from Forever Romance for an honest review.
DUKE OF SIN is available on May 31, 2016.
Can Bridget spin a happy ending?

I am giving away a book choice from my convention stash to one randomly selected commenter. To enter the giveaway,
1. Leave a comment about lockets (one item Val stole to blackmail an heiress) - would I find one in your jewelry box? I have a heart shaped locket I bought at an antique market in
Tongeren, Belgium (

link

).
2. This giveaway is open to US readers.

3. Comments are open through Saturday, May 14, 10 pm in Baltimore. I'll post the winner on Sunday, May 15.

Mahalo,
Kim in Baltimore
Aloha Spirit in Charm City
Learn more about Elizabeth and her books at

elizabethhoyt.com

.