Julie Ann Walker

co-hosted The Way of the Warrior table at the SOS America Military Tribute. She also contributed to

THE WAY OF THE WARRIOR

anthology in support of the Wounded Warrior Project. From her bio,

Julie Ann Walker is the New York Times and USA Today bestselling author of award-winning romantic suspense. She has won the Book Buyers Best Award, been nominated for the National Readers Choice Award, the Australian Romance Reader Awards, and the Romance Writers of America's prestigious RITA award. Her latest release was named a Top Ten Romance of 2014 by Booklist. Her books have been described as "alpha, edgy, and downright hot." Most days you can find her on her bicycle along the lake shore in Chicago or blasting away at her keyboard, trying to wrangle her capricious imagination into submission.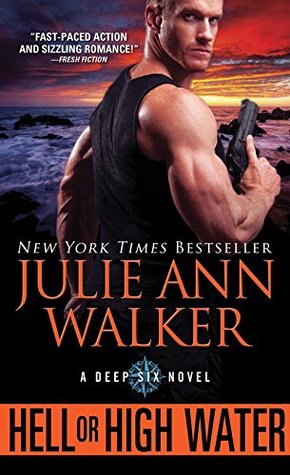 Julie welcomes a new series on July 7 with

HELL OR HIGH WATER

:
In a world on the brink...

Six men. One sunken Spanish galleon. Millions in gold and silver coins lying on the ocean floor. And a past that refuses to let the guys of Deep Six Salvage forget the Navy SEAL motto: the only easy day was yesterday...

There's more than one kind of treasure...

The nation's security has always been CIA agent Olivia Mortier's top priority. But a mission-gone-wrong has begun to make her wonder if there's more to life than risking hers.

And more than one secret at the bottom of the sea...

Only two things could make Leo Anderson abandon his hunt for the legendary lost ship, La Santa Christina, and return to the world of weapons and warfare he swore to leave behind: a capsule of enriched uranium, lost on the ocean floor, and a plea for assistance from the one woman he can't seem to forget...
Verbeeck's painting of a Spanish galleon (left)
firing on a Dutch warship (right)
Mahalo, Julie, for writing military heroes and supporting military families! May is

National Military Appreciation Month

. For the month of May, I am giving away one grand prize of books and swag from the authors featured this month (

link

). Plus five more commenters - one for each branch of service - wins a book choice from my convention stash. To enter the giveaway,

1. Let's chat about Chicago - have you visited the Windy City? I have only visited the outskirts for RT/12 ... but I would like to explore Chicago's Navy Pier.

2. Comments are open through Sunday, May 31, 10 pm in Baltimore.

3. I'll post the winners on Monday, June 1.

Mahalo,

Kim in Baltimore
Aloha Spirit in Charm City
Navy Pier - Public Domain (

link

)