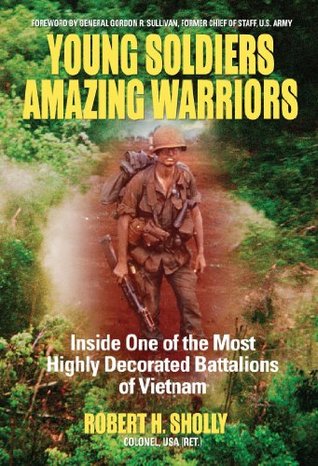 2015 is the 50th anniversary of the Vietnam War for American Forces. The Department of Defense is commemorating this milestone at this

link

:

The commemorative program will include activities and ceremonies to achieve the following objectives:
To thank and honor veterans of the Vietnam War, including personnel who were held as prisoners of war (POW), or listed as missing in action (MIA), for their service and sacrifice on behalf of the United States and to thank and honor the families of these veterans.

To highlight the service of the Armed Forces during the Vietnam War and the contributions of Federal agencies and governmental and non-governmental organizations that served with, or in support of, the Armed Forces.

To pay tribute to the contributions made on the home front by the people of the United States during the Vietnam War.

To highlight the advances in technology, science, and medicine related to military research conducted during the Vietnam War.

To recognize the contributions and sacrifices made by the allies of the United States during the Vietnam War.
Dedication of the Vietnam War Memorial
Public Domain (

link

)
My friend Laurel recently created a book trailer for Colonel Robert H. Sholly's book,

YOUNG SOLDIERS AMAZING WARRIORS

:
Young Soldiers Amazing Warriors is an absorbing, detailed and substantial memoir of military service on the ground in Vietnam, as well as a well-earned tribute to the brave young men with whom Sholly served. Sholly writes both from his own perspective and that of his surviving men in his combat rifle battalion, with eye-witness accounts in their own words.

Young Soldiers chronicles the beginning of the famous "nine Days in May" battles of the 4th Infantry Division in Vietnam and the heroes who fought them, including 4 Medal of Honor Winners. Personal accounts of boys become men reveal the riveting events of firefights, human wave attacks, hand-to-hand combat, overrun units, survivors, and sacrifice that combine to tell the story in action-packed detail.
Check out the book trailer at this

link

.
We will have several Vietnam veterans at the

12th Annual SOS America Military Tribute

during the RT Booklovers' Convention in Dallas -

link

for more details and free tickets.
I am giving away a book choice from my convention stash to one randomly selected commenter. To enter the giveaway,
1. Leave a comment about the Vietnam War - do you know any veterans? Have you visited the Vietnam Veterans Memorial in Washington, DC? My father in law served in the Vietnam War. I have visited the memorial - the wall that heals - it is worth the trip (

link

).
2. Comments are open through Saturday, March 21, 10 pm in Baltimore.
3. I'll post the winner on Sunday, March 22.
Mahalo,
Kim in Baltimore
Aloha Spirit in Charm City
Check out my spotlight of military hero workshops at the RT Booklovers' Convention on my travel blog at this

link

and

link

.
Vietnan War Memorial (left) with the Washington Memorial (right)