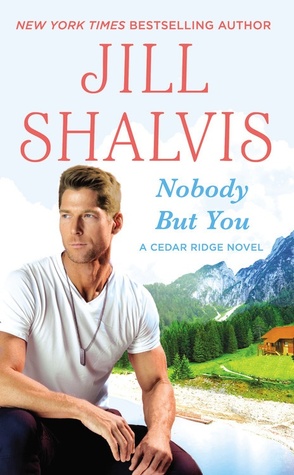 When Jacob was injured in the war, it changed him for life. Now all he wants to do is come home to Cedar Ridge, settle in at his lakeside cabin and get some much-needed peace and quiet. But there's no peace to be had when he finds a spitfire of a woman camping out on his property. Half the time he's not sure whether he wants to spank her or kiss--or maybe both. He's in a dark place and a dark mood, and here's this wildly hot woman who is also funny and light and may be the balm be needs to soothe his aching soul.
Sophie Marren is pretty much penniless after leaving her abusive husband. She doesn't have the money to pay rent or the slip fees for docking the boat where she's been sleeping. She was getting along just perfectly until the good-looking, brooding, I'm-too-sexy-for-myself guy moves into the lake cabin that the slip belongs to. Sure he's hot as the noon sun with those dark lens and even darker 'tude, but god forbid she tie herself to another man who's always telling her what to do. But the more she gets to know Jacob, the more she sees how willing he is to battle for her wounded heart...a battle she might just let him win.
New York Times bestselling author Jill Shalvis lives in a small town in the Sierras full of quirky characters. Any resemblance to the quirky characters in her books is, um, mostly coincidental. Look for Jill's bestselling, award-winning books wherever romances are sold and visit her website for a complete book list and daily blog detailing her city-girl-living-in-the-mountains adventures.
JillShalvis.com
Facebook.com/jillshalvis
goodreads.com/JillShalvis
twitter.com/JillShalvis
pinterest.com/jillshalvis
Forever Romance is hosting a Cedar Ridge giveaway at this

link

.