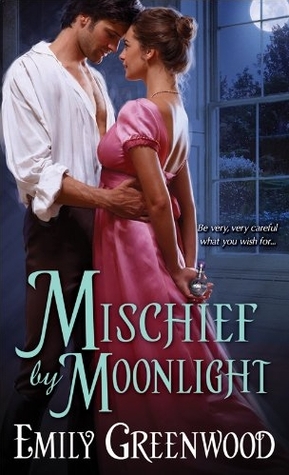 This is a banner week at Sourcebooks with the release of many enticing titles. Emily Greenwood is celebrating the release of

MISCHIEF BY MOONLIGHT

, Book 3 in the Regency Mischief series:
With the night so full of romance...

Colin Pearce, the Earl of Ivorwood, never dreamed he'd desire another man's fiancée, but when his best friend goes off to war and asks Colin to look after the bewitching Josie Cardworthy, he falls under her sparkling spell.

Who can resist mischief?

Josie can't wait for the return of her long-absent fiancé. If only her beloved sister might find someone, too...someone like the handsome, reserved Colin. A gypsy's love potion gives Josie the chance to matchmake, but the wild results reveal her own growing passion for the earl. And though fate offers them a chance, a steely honor may force him to reject what her reckless heart is offering...

I asked Emily what are the top five things she would like to see in London for her own season ...
Hello, and what a treat to be back at SOS Aloha! Thank you, Kim, for having me here to celebrate the release of

MISCHIEF BY MOONLIGHT

. What a wonderful idea! Without further ado I shall tie on my enchanted time-travel scarf & let the magic whisk me back to the early 1800s…
And here I am! Dressed in a blue muslin gown, just like Miss Josie Cardworthy, the heroine of

MISCHIEF BY MOONLIGHT

. She has a sometimes-disastrous tendency to do the impulsive thing, which gets her into trouble when she makes her very first visit to London. I wonder what trouble I'll find? The London spots I'll definitely visit will be…

1.

Mr. Darcy's townhouse

. I know…but he seems so real J What I mean is I'd want to be invited into the home of an upper-class gentleman, perhaps for a dinner party. I'd want to hear my leather slippers tapping softly on his polished floors and see the moonlight coming through the tall windows of his drawing room to fall on luxurious furnishings that I could actually touch (unlike what happens when you tour historical homes in the 21st century and everything's roped off.) And I'd want to sit at his dining room table to partake of the roast beef and wine and conversation. In short, I'd want to be his guest!

2.

The Tower of London

, which my heroine Josie visits during her trip to London. The Tower reminds her of her friend Colin, the Earl of Ivorwood, (the hero of MISCHIEF BY MOONLIGHT), who's an amateur historian. Many famous people were imprisoned in this old castle on the banks of the Thames, including Elizabeth I before she was queen. Some prisoners were unfortunately tortured, the two main methods being the rack, which stretched the body painfully, and manacles, which torturers used to hang victims by their wrists. I'm not certain how much I'd have been able to see of such implements in the Regency era, but I could have visited the Royal Menagerie, which was housed in the Tower and opened to the public in 1804.

3.

Bond Street

, where many of the best shops were. I love looking at old clothes on museum mannequins, but imagine being able to see–and wear!—all the latest Regency fashions when they were new. The Turkey reds, the fine patterned muslins, the silvery silks—all the fabrics that would have made up the morning gowns and ball gowns for a Regency lady, along with the gloves and hats and shoes…sigh.

4.

Brooks's Club

. It was for gentlemen only, so wouldn't it be pretty darn interesting to visit? I'd sneak in disguised as a man, of course, so I could hear just what all those gentlemen talked about when the constraints of feminine companionship were lifted.

5.

Almack's

. Well, you apparently didn't go for the food— puny offerings of bread and butter and bad lemonade— but if you wanted to be in a room full of fashionable people dancing, this was this place. If I went there, maybe it would feel like being inside one of my favorite BBC productions, like this lovely dance scene from the Emma miniseries --

link

. On the other hand, Almack's would have been very crowded, and I imagine that, like Colin, my MISCHIEF hero (who's a reserved man), I would at the end of my Town visit have been happy to return to the country.
Emily Greenwood worked for a number of years as a writer, crafting newsletters and fundraising brochures, but she far prefers writing playful love stories set in Regency England, and she thinks romance novels are the chocolate of literature. A Golden Heart finalist, she lives in Maryland with her husband and two daughters.
Sourcebooks is giving away a print copy of

MISCHIEF BY MOONLIGHT

to one randomly selected commenter. To enter the giveaway,
1. What would you like to do in your own London season?
2. Comments are open through Saturday, June 7, 10 pm in Baltimore.
3. I'll post the winner on Sunday, June 8.
Aloha Spirit in Charm City