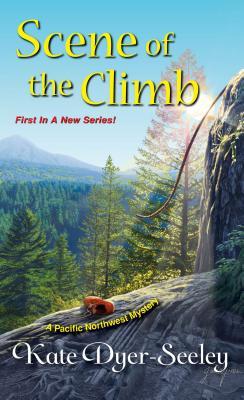 Available today from Kensington ...
Portland, Oregon, is the perfect fit for someone like Meg Reed. It's a city with a small town feel, where she can crash on the couch of her best friend Jill, now that she's graduated from journalism school. . .

But a girl needs a job, so Meg bluffs her way into writing for Northwest Extreme magazine, passing herself off to editor-in-chief Greg Dixon as an outdoor adventure enthusiast. Never mind that Meg's idea of sport is climbing onto the couch without spilling her latte. So when she finds herself clawing to the top of Angel's Rest--a two-thousand-foot peak--to cover the latest challenge in a reality TV adventure show, she can't imagine feeling more terrified. Until she witnesses a body plummet off the side of the cliff. Now Meg has a murder to investigate. And if the climbing doesn't kill her, a murderer just might. . .
Ko'olau Mountains from Kailua Beach
It is not the mountain we conquer but ourselves. - Edmund Hillary
My favorite reality show,

HOUSE HUNTERS

, introduced me to the Pacific Northwest by way of its housing market. The couples interested in the Pacific Northwest desire a green home, fresh air, and granola bars. I have a few military friends who loved living in the Pacific Northwest ... so it was their enthusiasm which prompted me to review Kate Dyer-Seeley's debut cozy mystery,

SCENE OF THE CLIMB

.
I read fiction for entertainment, education, and escapism; Dyer-Seeley delivers all three with the lovable journalist Meg, her sensible friend Jill, and her gorgeous boss Greg. Meg engages in "I Love Lucy" antics to bluff her way through her first assignment. Dyer-Seeley captures the "green" essence that attracts so many to the Pacific Northwest. And it is pure fun joining Meg on her quest to find a killer while breaking in her hiking books.
Dyer-Seeley ends the book with a larger story that will obviously carry over to the next installment of Graduate Meets World. I am looking forward to many more adventures with Meg! Recommended read for fans of cozy mysteries, the great outdoors, and underdogs overcoming challenges.
I received an ARC from Kensington for an honest review.
Old Pali Highway Overlook
I am giving away a "green" swag prize package to one randomly selected commenter. To enter the giveaway,
1. Leave a comment about your experience with the great outdoors ... love it or loathe it? When my youngest son was a Webelos II, already ready to bridge over to Boy Scouts, he attened a weekend campout at Bellows Beach with his older brother's troop. Since he was still a Cub Scout, a parent had to accompany him. Hubby was not available ... so I rented a cabin while the troop (and parents) slept in tents. I shared my story and pictures on my travel blog at this link.
2. Comments are open through Saturday, June 7, 10 pm in Baltimore.
3. I'll post the winner on Sunday, June 8.
Aloha Spirit in Charm City
Note that I did not have pictures of the Pacific Northwest, so inserted my belowed Hawaii.
Atop the Lanikai Overlook