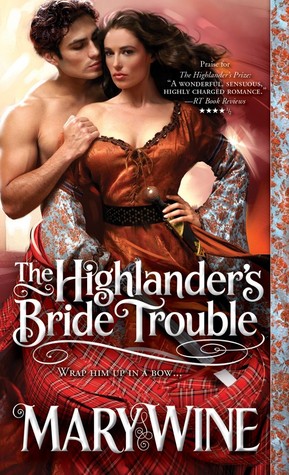 Mary Wines is my guest for a cozy chat about her new release,

THE HIGHLANDER'S BRIDE TROUBLE

, Book 4 in her Sutherlands series from Sourcebooks Casablanca:

Her clan is in chaos...

Raised by her father and brother, Nareen Grant is strong, confident, well-educated—and skilled with a bow and dagger. It's a tumultuous time for Scotland, and events conspire against her. Betrayed by her family, she makes her way alone, until she lands in the lap of Saer MacLeod. But she wants no help from a savage man of the Isles.

And rivalries are deadlier than ever.

Raised on the rugged Scottish Isles, Saer MacLeod is considered fierce even by Highlander standards. He's enchanted by the independent and headstrong Nareen. But when an old feud endangers her life, Saer's fascination with her escalates into a ferocious desire to protect her… and claim her for himself.
Order Print:

Amazon

|

Barnes & Noble

|

B-A-M

|

Book Depository

|

Indigo

|

IndieBound



Order Ebook:

Kindle

|

Nook

|

Kobo

|

iBooks
I asked Mary, If you fell back in time, how would you blend into the village with your 21st century skills - Be a seamstress? Storyteller? Or something else?

Falling through time….hummm….I suppose becoming a story teller would be the obvious choice. But that might be harder than I think. People everywhere have their own culture and sense of humor. Also, there is the fact that being an actor wasn't really a very respected profession.

Let's face it, if I fell through time, my knees would be knocking. I'd have to rely on the kindness of fate and my own wiles. Queen Elizabeth was quoted as saying that 'If I were turned out in my petticoat tomorrow, I would land on my feet…'. I'd love to think I'd do as well. Elizabeth had such a rocky path in life but made it to the top in the end.

I do love to sew but in order to be a seamstress in ears gone by, you had to own your own needles and pins. Any sort of metal was very expensive. Fabric was very expensive too. Noble families would actually send their servants to watch over the cutting process and all of the bits were gathered up and used. Right down to the tiny ones, those were mixed together into something called 'cabbage' and used to stuff hip rolls, shoulder treatments and hat decorations.
Acclaimed author Mary Wine has written over 30 works of erotic fantasy, romantic suspense, and historical romance. An avid history-buff and historical costumer, she and her family enjoy participating in historical reenactments. Mary lives with her husband and two sons in Yorba Linda, California.

Website:

marywine.com


Facebook:

link


Goodreads:

link
Sourcebooks is giving away a print copy of

THE HIGHLANDER'S BRIDE TROUBLE

to one randomly selected commenter. To enter the giveaway,
1. Leave a comment about time travel - if you fell back in time, what talent could you offer Medieval Times?
2. Comments are open through Saturday, August 16, 10 pm in Baltimore.
3. I'll post the winner on Sunday, August 17.
Aloha Spirit in Charm City

Breaking News - The first three books in series are on sale from your favorite e-retailer ...

· The Highlander's Prize - FREE

· The Trouble with Highlanders - $1.99

· How to Handle a Highlander - $3.99


Meanwhile, Mary offers an excerpt from

THE HIGHLANDER'S BRIDE TROUBLE

:

He reached out and stroked her cheek. "'Tis a sad thing to see how hard yer feelings are. But there is naught more to fear, she'll nae have the opportunity to inflict such ills again."

Nareen jerked away from the contact. She even took a swipe at his hand, but he moved faster, withdrawing in time to avoid being struck. Someone chuckled from where his men clustered near the fires, but Saer was watching her from narrowed eyes.

"I am nae afraid of anything," she assured him.

"Is that so?" Saer inquired in a silky-smooth tone.

Nareen nodded. Satisfaction began to fill her, but it was cut short as he reached out and stroked her face again. She jumped, completely unable to control her reaction.

"Ye are making sport of me in front of yer men, like a savage."

His eyes glittered, but it wasn't with the outrage Nareen had intended to provoke. Instead, there was an unmistakable pleased looked in those dark orbs.

"I am a savage, Nareen." He stepped forward, placing himself within touching range again. "I do nae let words stand alone. If ye truly have no interest in me, there is no reason to avoid me touch. Stand steady and prove ye are nae moved. I have no taste for a frigid woman."

She laughed at him but stepped back again. "Then it seems we have a common ground, for I crave no man's touch."

His lips thinned. "Now that is something ye shall have to prove as well."

"I will nae. Me word should be enough on the matter, if ye truly are me brother's friend." She didn't care to hide behind her brother's name, but the circumstances offered her few alternatives.

"As ye noted, I am a savage, and I always demand proof before I believe."

This time, she was ready when he reached for her cheek. She stepped aside, avoiding him. She was just beginning to smile with her victory when he closed his hand around her wrist. He really was huge. His fingers closed easily around her smaller wrist, clasping it in an iron grip. She braced herself for pain, but there was none, only a secure hold that defied her attempt to break it.

"Release me." Her voice had risen, and she shut her mouth before revealing any more of her unsettled state.

"Prove ye are unmoved, lass, and I shall be content to accept yer dismissal." His tone had deepened, becoming something hypnotic.

"I am irritated." And remaining still was proving too difficult. She twisted her hand, trying to break his hold again.

"Aye, ye are that." He lifted her hand to his face and pressed a kiss on the delicate skin of her inner wrist. She shuddered, the touch intensely intimate. She'd never realized her skin might be so sensitive. The simple touch of his lips unleashed a bolt of sensation that shook her all the way down to her toes. His eyes filled with satisfaction.

"But ye are also affected."

He released her, and she stumbled back a pace because she'd been resisting his hold so greatly. Laughter erupted from his men. Saer stiffened, and he crossed his arms over his chest.

"What?" she said. "Are ye trying to impress me by controlling yerself now that ye see yer men are enjoying the sport ye are making of me?"

"Aye, I am," he answered darkly. "I am nae the one who chose this setting for our meeting, Nareen. Ye should nae have refused to see me again at court. That left me no choice but to chase ye."