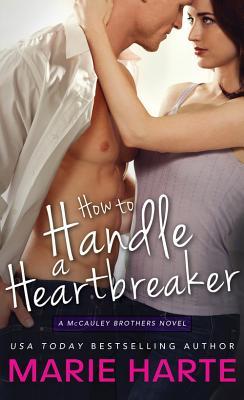 Aloha! I'm late with my post today because (1) I am busy in Florida with my family and (2) we lost the Internet connection in our vacation condo. So now I am at the library, after a day at the beach, trying to catch up!
I have a weekly column with

USA Today's HEA Blog

- State of Romance. This week we visit the

Indiana

- the Hoosier State - in honor of the first woman to enlist in the Marine Corps (

link

).
A Marine in heels!
marines.dodlive.com
Did you know

Marie Harte

is a Marine veteran turned romance author? She is celebrating the release of

HOW TO HANDLE A HEARTBREAKER

, Book 2 in the McCauley Brothers series:
HE CAN'T GET HER OUT OF HIS HEAD
It's lust at first sight when Brody Singer first lays eyes on Abby Dunn. The dark-haired beauty looks a lot like a woman he once knew, who died years ago. At first Brody fears his attraction is a holdover from that secret crush, but Abby's definitely different. She's a lot shyer, a lot sexier and, despite her attempts to dissuade his interest, absolutely mesmerizing.

SHE CAN'T GET HIM OUT OF HER BOOKS
Abby isn't having it. She's still trying to put her last disastrous relationship behind her and overcome the flaws her ex wouldn't let her forget. But somehow Brody isn't getting the hint. It doesn't help that when writing her steamy novels, she keeps casting Brody as the hero.

Brody is more than happy to serve as her muse and eager to help make sure her "research" is authentic. But when their research turns into something real...will she choose her own happily ever after?
I am giving away a print copy of

HOW TO HANDLE A HEARTBREAKER

to one randomly selected commenter. To enter the giveaway,
1. What do you know about the Hoosier State? I know my husband's Alma mater, Purdue, is located in Indiana.
2. Comments are open through Saturday, August 16, 10 pm in Baltimore.
3. I'll post the winner on Sunday, August 17.
Aloha Spirit in Charm City