Miss Lavinia Halls is a member of the Guild of Hybrids, a secret society dedicated to helping women in need. When faced with a terrified new client, Lavinia declares that her client's fiancé must pay for his sins. The fact that she can't take her eyes off the man's kissable lips only spurs her resolve to bring her assignment to a quick conclusion.

Eric Yorke, Viscount Mathieson, wishes nothing more than to distance himself from his treacherous fiancée, but in his quest to do so, he finds himself trapped in the clutches of the unconventional Miss Halls. The delectable yet annoyingly persistent woman seems intent on ruining his life no matter how much he tries to thwart her attempts.

Her efforts to seek and destroy meet their match in his determination to foil her plans, until their struggles collide in a scandal of enormous proportions. Fated together, they must overcome ruin, danger and heartbreak. Will they be able to survive their past or is their future together doomed?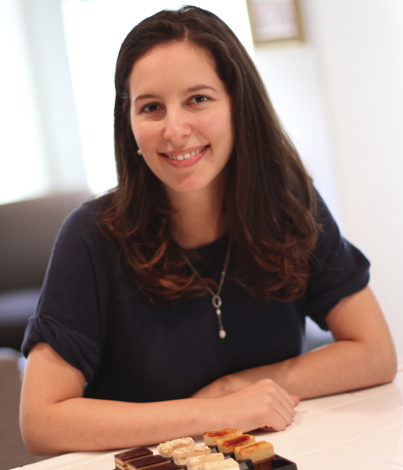 Alice Lake

's interest in the unusual is reflected in the stories she puts down on paper. Along with her passion for romance and 19th century history, she is a champion for women's rights. Who said women had no voice, no say and no choice during Victorian times? According to Alice, they had all that and more. They could teach and build, fight and heal, and do so many other things not traditionally deemed proper.
Alice is an unusual case herself. She grew up in three countries and on two continents. Suffering from a lack of cultural identity, she borrows whatever traditions suit her. Nothing is rigid and fluidity encompasses her world. This philosophy of open-mindedness spills into her writing, making for unexpected romance stories.
Learn more about Alice and the

Guild of Hybrids

at this

link

... and Alice's alter ego,

Mila Rossi

, at this

link

.
Sophia Hagia by Adriaan Reland (1676-1718)
I invited Alice to join me for a cozy chat ...
Kim

: I am a travel aficionado ... tell us about the three countries and two continents? What is your favorite sight, sound, and smell from your world wide travels?
Alice

: Hm, where to start. I was born in Romania, mostly grew up in Austria and moved to the US as a teenager. I will always have that nostalgic feeling about Europe that people get when they think of their childhood. Thankfully I married an equally adventurous man who shares my passion for travel and we've been able to see many places. Some of our favorite sights were the Greek islands (where we honeymooned), Venice and the Hagia Sophia in Istanbul, the biggest and most awe-inspiring cathedral/mosque I've ever seen. Then there was La Boqueria, a fabulous colorful fruit and vegetable market in Barcelona, and the thousands of bikes parked all around Amsterdam. As far as sounds, there are many; the soothing waves of the ocean when we did see Hawaii, the cooing of the pigeons and the sound of the horse-drawn carriages in historic Vienna, and the bustling energy you can hear in Times Square in NYC. For the smell, hm. I love food, so I'm always smelling food everywhere I go, especially pastries or freshly baked bread, like in the boulangeries of Paris. The smell of roasted chestnuts in the cold months in Vienna is one of my favorites, as well as the mulled wine or gingerbread. Since I also like to cook and bake, I bought lavender in France to bake with, and the smell is just awesome.
Kim

: Who or what helped you along the path to pubishing?
Alice

: Early on, I was part of a critique group made up of other writers, and they helped me improve my craft. I'm also part of the Romance Writers of America, a great organization that provides workshops, information and networking opportunities for writers, and I was able to learn a lot that way. And with my mother and husband's support, I ended up finally seeing my first book published. It was a very emotional day.
Kim

: Can you share an unusual fact you learned while researching Victorian England?
Alice

: Yes! I had no idea those prim and proper Victorians were into tattoos. It was pretty exciting to find out and even more so to include that tidbit in my Guild of Hybrids series. All the members of the Guild (all female, by the way), have an orchid tattooed on their inner thigh to mark them as members. I thought that was very cool.
Kim

: What inspired

DANGEROUS KISSES

?
Alice

: I had written a couple of historical novels which I never published, and was toying with the idea of writing a series. I wanted to give it an interesting hook that set it apart from other historicals, so I came up with the idea to have a secret female society that takes vengeance on men for their wrongdoings. Dangerous Kisses is the first book in the series and features Lavinia Halls, one of the top members of the society, and Eric Yorke, Viscount Mathieson, the man she is hired to ruin. It was fun to write these two hotheads who were at each other's throats all the time. I had a blast.
Kim

: What's next for

Alice Lake

?
Alice

: The second book in the series,

Dangerous Desires

, will be coming out this summer, and will feature Lavinia's reckless and impulsive younger sister, Larissa, who is a snake-charming belly dancer. I know, it sounds insane. What can I say? I like unusual stories. Then, the third installment in the series will hopefully be out at the end of the year, featuring their very proper, opera-singing cousin, and that book is titled

Dangerous Connections

.
Other than that, I also write contemporary romance under the name

Mila Rossi

, and I am releasing three novellas in that category this year. Busy, busy….
Theatre Royal, Drury Lane, published in 1828
Mahalo, Alice, for sharing your travel and literary adventures. I am giving away Victorian swag to one randomly selected commenter. To enter the giveaway,
1. Alice mentioned baking with French lavender ... what do you bake with? I bake with Betty Crocker, making coffee cake for fellowship hour. The church ladies love it!
2. Comments are open through Saturday, March 12, 10 pm in Baltimore.
3. I'll post the winner on Sunday, March 13.
Mahalo,
Kim in Baltimore
Aloha Spirit in Charm City
Lavender infused cupcakes