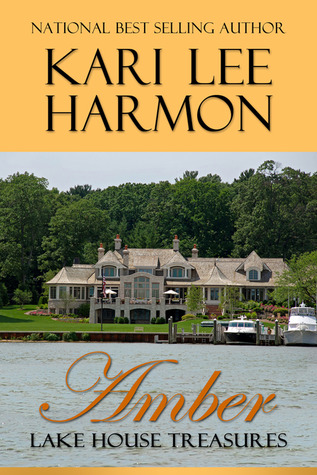 Oh, I'd like to stay in this lake house! Kari Lee Harmon is celebrating the release of

AMBER

, Book 1 in her new Lake House Treasures series ...
In this heartwarming new women's fiction series, quiet and shy cook, Amber Scott, gets some shocking news when she receives a letter after her thirtieth birthday from the father she never knew. He's dying and is leaving everything to her and the half-sisters she's never met. His only stipulation is that they all spend the summer together at his house on Skaneateles Lake. With a mother who loved drugs more than her own daughter and an ex-husband who loved booze and abusing his wife, Amber spent her life feeling unloved as she took care of others and let people walk all over her. Needing the escape, she agrees to her father's terms, having no idea the things she will learn about them all, including herself. Once there, she meets the hard working, gentle groundskeeper who slowly helps to heal Amber's heart by taking care of her and loving her above all else. But will she find the courage to open her heart to her sisters and the father who started it all?
National Bestselling Author, Agatha, RT Reviewers Choice & Golden Duck Award Nominee. Kari Lee Townsend lives in central NY with her very understanding husband, her three busy boys, and her oh-so-dramatic daughter. A former teacher with a master's in English education, she is a long-time lover of reading and writing. She is best known as the author of the Fortune Teller Mystery series, but also writes romance and women's fiction (under the name Kari Lee Harmon), as well as children's fiction about tween superheroes. These days, you'll find her at home happily writing her next novel and still trying to find out whodunit.
Kari is giving away a digital copy of

AMBER

to one randomly selected commenter. To enter the giveaway,
1. Leave a question about getaway to the lake - do you have a favorite spot?
2. Comments are open through Saturday, June 14, 10 pm in Baltimore.
3. I'll post the winner on Sunday, June 15.
Aloha Spirit in Charm City
Learn more about Kari and her books at

karileetownsend.com

.