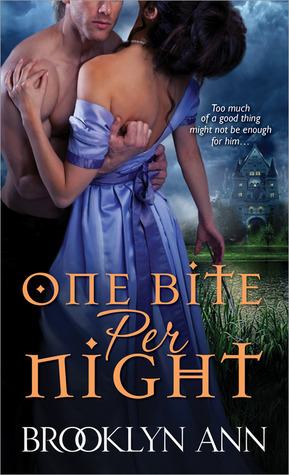 Brooklyn Ann serves up a delicious historical paranormal with

ONE BITE PER NIGHT

, Book 2 in the Scandal with Bites series, from Sourcebooks Casablanca:

He wanted her off his hands...

Vincent Tremayne, the reclusive "Devil Earl," has been manipulated into taking rambunctious Lydia Price as his ward. As Lord Vampire of Cornwall, Vincent has better things to do than bring out an unruly debutante.

Now he'll do anything to hold on forever

American-born Lydia Price doesn't care for the stuffy strictures of the ton, and is unimpressed with her foppish suitors. She dreams of studying with the talented but scandalous British portrait painter, Sir Thomas Lawrence. But just when it seems her dreams will come true, Lydia is plunged into Vincent's dark world and finds herself caught between the life she's known and a future she never could have imagined.



Amazon

|

Apple

|

B&N

|

BAM

|

IndieBound

|

Indigo

A lover of witty Regencies and dark paranormal romance, Brooklyn Ann combines the two in her new vampire series. The former mechanic turned author lives with her family in Coeur d' Alene, Idaho. She can be found online at

brooklynann.blogspot.com

.

Website:

brooklynann.blogspot.com


Facebook:

facebook.com/brooklyn.ann.7


Twitter:

twitter.com/Brooklyn__Ann


Goodreads:

link

What did you learn about your fans, your fellow authors, and yourself after attending the RT Booklovers' Convention in NOLA?

The prospect of going to RT was as daunting as it was exciting. I have post traumatic stress disorder and often crowds and loud noises can send me into panic attacks. Also, I haven't traveled much so I was pretty scared.

Thankfully, I was bunking with the fabulous Jess Haines, author of the H&W Investigation series and she is an absolute saint. She was my Sherpa and gave me a wonderful tour of NOLA and introduced me to some fabulous authors and reviewers. Thanks to her and all the awesome people, (and Xanax) I didn't have a panic attack.

About the fans, it really sunk in that I actually have them. I couldn't believe how many people actually recognized me and my books. Including one of the reviewers from RT. It was surreal and definitely reinforced by determination to keep writing.

As for my fellow authors, I learned that I am blessed beyond belief at the kindness, closeness and support of the romance community. I just couldn't stop smiling as I realized, "These are my people! I actually belong here!" I was a major outcast and bullied a lot in my younger days, so this was phenomenal.

I also found out that pen names are more common than I thought. I'm one of the rare ones who use my real name. Well, my first and middle, anyway. I have a very boring and non-romance-y last name.

What I learned about myself is that being a writer is truly fulfilling, I can handle going to conventions without panicking, in fact, I need to go to more. And… I am absolutely in LOVE with Cajun and Creole food. So much that I want to kidnap a NOLA chef and bring him or her to Idaho to open a restaurant.
Mahalo,

Brooklyn

, for stopping by SOS Aloha! Sourcebooks is giving is away a print copy of

ONE BITE PER NIGHT

is one randomly selected commenter. To enter the giveaway,
1. What is your favorite bite size snack?
2. Comments are open through Saturday, August 16, 10 pm in Baltimore.
3. I'll post the winner on Sunday, August 17.
Aloha Spirit in Charm City