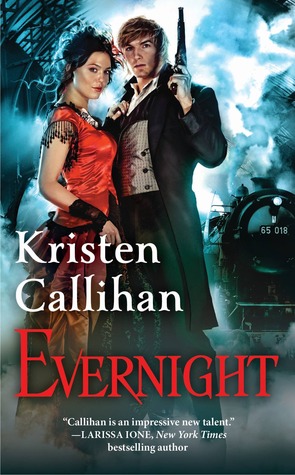 This week ushered in many new releases, including Kristen Callihan's

EVERNIGHT

, Book 8 in her Darkest London series:

Once the night comes . . .

Will Thorne is living a nightmare, his sanity slowly being drained away by a force he can't control. His talents have made him the perfect assassin for hire. But as he loses his grip on reality, there is no calming him—until he finds his next target: the mysterious Holly Evernight.

Love must cast aside the shadows . . .

Holly cannot fathom who would put a contract on her life, yet the moment she touches Will, the connection between them is elemental, undeniable—and she's the only one who can tame his bouts of madness. But other assassins are coming for Holly. Will must transform from killer to protector and find the man who wants Holly dead . . . or his only chance for redemption will be lost.

Kristen Callihan is an author because there is nothing else she'd rather do. She is a three-time RITA nominee, and winner of two RT Reviewer's Choice awards. Her novels have garnered starred reviews from Publisher's Weekly and the Library Journal, as well as being awarded top picks by many reviewers. Her debut book FIRELIGHT received RT Magazine's Seal of Excellence, was named a best book of the year by Library Journal, best book of Spring 2012 by Publisher's Weekly, and was named the best romance book of 2012 by ALA RUSA. When she is not writing, she is reading.
I am giving away a book choice from my convention stash to one randomly selected commenter. To enter the giveaway,
1. Leave a comment about London - what do you know about it?
2. Comments are open through Saturday, August 30, 10 pm in Baltimore.
3. I'll post the winner on Sunday, August 31.
Aloha Spirit in Charm City
Observer during the Battle of Britain
Public Domain (

link

)