Bright, Young Heroines—why it was so much fun to write a 1920s heroine!

When I watched Downton Abbey, I knew I absolutely had to write a 1920s set romance. I've loved the era since I was a teenager and read The Great Gatsby and Agatha Christie's The Mysterious Affair at Styles. In university, I studied product design, so I had absorbed the art and architecture and styles of the 20s. I was thrilled when Harlequin signed me for two books. The first is

An American Duchess

, out now.

My heroine, the American Duchess, is Zoe Gifford, an heiress and aviatrix, who needs a hasty marriage to gain access to her trust fund, and save her mother from disaster. Zoe has endured rejection by snobbish New York society, and she craves change and excitement. Nigel Hazelton, the Duke of Langford, and Zoe immediately spar over women's rights, jazz dancing, coping with grief, and electric lighting—or lack of it. They drive each other mad but can't resist each other.

The inspiration for the story grew from an exchange of telegrams I imagined would be sent between Zoe and Nigel when their marriage is falling apart. Can they fall in love again, or will they part forever?

Here are the telegrams:

dear madam stop the duke of langford does not divorce his wife stop

In response, the next day he received a telegram that read:

my dear husband stop our marriage is a drafty and leaky institution stop with sagging roof and no modern plumbing stop we are not comfortable in it anymore stop we have outgrown the edifice stop

So once again, he found himself at the telegraph office in the village:

speak for yourself madam stop

To which she replied:

there must be some scandal stop that would make you willing to let me go stop intend to cause embarrassment in the extreme stop

I wanted to capture a modern woman of the Roaring Twenties in Zoe. My hero Nigel, the Duke of Langford suffers from what we now recognize as post-traumatic stress after WW1. His home of Brideswell Abbey was his refuge, his vision of heaven when he was at war. Nigel wants to return to the way of life before the war and fights the changes of the modern world.

Change is the theme that draws me to Downton Abbey. The series always deals with change—on a global level and an intimate level. As Carson the butler says (my quote might not be exact), 'There is no point in living if we don't let life change us.'

When Zoe realizes Nigel is suffering from shell shock, and she wants to help him heal. She takes him driving in her automobile and flying in her airplane. She even goes skinny dipping with him in the lake of Brideswell Abbey, his home. But Nigel is keeping many secrets from the war. When he faces losing Zoe unless he reveals exactly what happened, can he give her the truth?

After writing An American Duchess, I really wanted to explore Nigel's experiences in the First World War. I've just published a prequel novella called The Heaven that is Home. Since it's the 100th anniversary of the beginning of World War 1, I will have the novella free in November at this

link

.
Here are buy links for

An American Duchess

:

Amazon Kindle:

link


Amazon trade paperback:

link


B&N:

link



I'm giving away a signed print copy of

An American Duchess

to a lucky commenter. And look for the free prequel novella, The Heaven that is Home. If you'd like an advance free copy of the novella, just email me at

sp@sharonpage.com

.

Thanks so much for inviting me here today!
Sharon Page

is a New York Times and USA Today Bestseller who has written erotic romance, historical erotic romance, and historical romance. Her books have been two time winners of the RT BOOKreviews Reviewers' Choice Award, the National Readers' Choice Award, and winners of the Golden Quill and Colorado Award of Excellence.
I'm giving away a signed print copy of

An American Duchess

to a lucky commenter. And look for the free prequel novella,

The Heaven that is Home

. If you'd like an advance free copy of the novella, just email me at

sp@sharonpage.com

.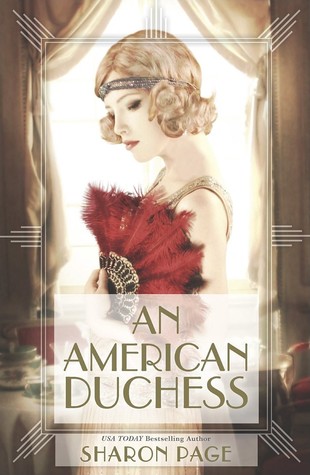 To enter the giveaway,
1. Leave a comment about the Roaring 20s, Downton Abbey, and/or red poppies.
2. Comments are open through Saturday, November 8, 10 pm in Baltimore.
3. I'll post the winner on Sunday, November 9.
Mahalo,
Kim in Baltimore
Aloha Spirit in Charm City
Here's another excerpt from

An American Duchess

:

Heels clicked on the stone tiles of the hall outside the door, a hint of exotic perfume assailed him and he had just pushed to his feet when Zoe Gifford strode into the dining room, lit by sunlight pouring in the two-story windows.

She was wearing trousers. Beige trousers, tall leather boots and a trim-fitting leather jacket that nipped into to her waist and swelled out around her bosom.

Miss Gifford was not fashionably flat-chested.

But he should not be looking at her curves. "Good morning, Miss Gifford," he grunted. He intended to skirt around her and escape. He assumed she had as little desire to speak to him as he did with her.

She stood in his path, hand on her hip, barring his way while his coffee cup burned against his palm.

"You will soon learn that your brother denuded half the flowers in your greenhouses, Your Grace," she said, in her firm, husky, American voice. "The gardeners had nothing to do with it. They'd better not be punished. I won't stand for men being wrongfully abused, simply because one group of people considers them to be of a lower class."

Could they not spend a moment together without an argument ensuing? He had not even finished his coffee. "I assure you, I do not punish either blindly or unjustly—" Then her words filtered in. "For what purpose did my brother do this?"