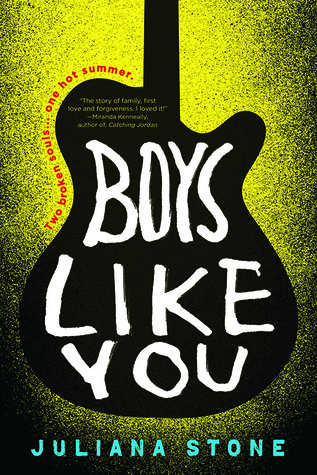 Young Adult (YA) has become a large segment of the RT Booklovers' Convention (

link

) ... and Juliana Stone will be a part of the buzz in New Orleans! Juliana is celebrating the release of

BOYS LIKE YOU

:
IF
If I hadn't fallen asleep.
If I hadn't gotten behind the wheel.
If I hadn't made a mistake.

For Monroe Blackwell, one small mistake has torn her family apart—leaving her empty and broken. There's a hole in her heart that nothing can fill. That no one can fill. And a summer in Louisiana with her grandma isn't going to change that...

Nathan Everets knows heartache firsthand when a car accident leaves his best friend in a coma. And it's all his fault. He should be the one lying in the hospital. The one who will never play guitar again. He doesn't deserve forgiveness, and a court-appointed job at the Blackwell B&B isn't going to change that...

There's No Going Back

Captivating and hopeful, this achingly poignant novel brings together two lost souls struggling with grief and guilt—looking for acceptance, so they can find forgiveness.
Hawaiian grannies are called tutu
I asked Juliana to name the Top Five Things to Do at Grandma's house ....

1. Eat lots of junk food and read books that you're not supposed to read.

2. Take your grams into town for a manicure and pedicure.

3. Make a scrapbook with all the old pictures you find in boxes and laugh at how bad your parents hair and clothes looked when they were young.

4. Bake cupcakes together, lemon cupcakes and then eat them all.

5. Dance in the rain and sing as if no one is watching you.
USA Today Bestselling author Juliana Stone's love of the written word and '80s rock have inspired her in more ways than one. She writes dark paranormal romance and contemporary romance and spends her days navigating a busy life that includes a husband, kids, and rock 'n' roll! Boys Like You is her debut YA novel. You can find more info at

julianastone.com

.
I am giving away a "bad boy" prize package to one randomly selected commenter. To enter the giveaway,
1. Do you have a special memory about visiting Gram's house?
2. Comments are open through Saturday, May 10, 10 pm in Baltimore.
3. I'll post the winner on Sunday, May 11.
Mahalo,
Kim in Baltimore
Aloha Spirit in Charm City
A truck at Gram's house?